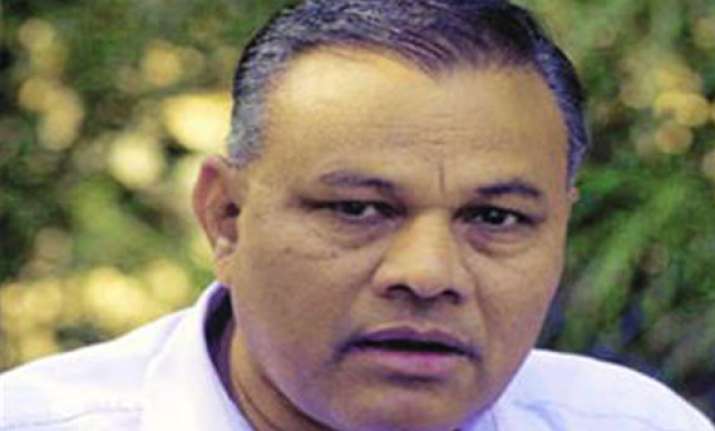 Ahmedabad, Nov 6: Once a trusted aide of Narendra Modi, former Gujarat minister Gordhan Zadaphia is out of the Bharatiya Janata Party (BJP) and believes that the Gujarat Parivartan Party (GPP) he has joined will do what Mayawati did in Uttar Pradesh -- socially engineer votes away from the chief minister.
In 2002, Zadaphia was minister of state for home in the Gujarat government, an important member of the Modi cabinet during the riots. A decade later, Zadaphia has joined Modi's other arch foe, former chief minister Keshubhai Patel's GPP, to contest the assembly elections in December.
Zadaphia and his camp may not affect Modi overall but do have the strength to make a dent in the BJP's votes. The reason - the Patel vote.
"Keshubhai is a prominent Patel leader and the community is sentimentally attached to him. His rule between 1995-2001 is still remembered for providing drinking water and water harvesting to rural folk. And these very people are going to support us," Zadaphia told IANS in an interview.
But will dominating the Patel vote alone make all the difference?
"We are doing in Gujarat what Mayawati did in Uttar Pradesh. She could socially engineer other communities to the BSP after winning the Dalit vote. We will also add other communities who have suffered under Modi's misrule," he said.
Both Keshubhai and Zadaphia are Saurashtra Patels from the Leuva subsection. Patels can influence the outcome in 50 of Gujarat's 182 seats. Leuvas alone constitute 8.11 percent of the state's electorate and can influence 41 assembly seats, mainly in Saurashtra-Kutch and South Gujarat.
What role does he envision for his party during and after the polls? Does he want to be just a third force or is he aiming to be a kingmaker?
"We are already a third force. We are hoping to get a majority in the state," Zadaphia said without batting an eyelid.
A majority? In a state where the cult of Narendra Modi has acquired legendary proportions? "We are showing the real situation of Gujarat to the voter. We have the figures to back us," he said.
Elaborating, he said Modi has three faces in the popular media.
"One is of being non-corruptible. Well, if he really is so honest, why has he opposed the appointment of the Lokayukta in Gujarat in the past eight years?
"Secondly, he is seen as the poster-boy of Hindutva. But in his very reign, 371 Hindu temples have been demolished in Gujarat, 200 of them in Gandhinagar alone. 40 Hindu sadhus have been killed while 150 robberies have taken place in Hindu temples. Grazing land for cattle has been given to corporates. How can Modi be called Hindutva's poster-boy despite all this?
"Thirdly, he is seen as the 'Vikas Purush' who brought development to Gujarat. If that is the case, why are farmers committing suicides? Why is malnutrition among women as high as 71 percent? Why was Gujarat in fifth place in terms of industrial investment last year? Why are we 16th in education and 13th in health? And these numbers have been given by the Governmment Socio-Economic Review, not me."
So why did he leave the BJP in the first place? "I left the party in 2008, as I felt that it was no longer 'the party with a difference', no longer the successor of Shyama Prasad Mookerjee's and Deen Dayal Upadhyaya's Jana Sangh. It was a party that was working more for the corporates than the common man. I could not be with such a party. I was better off as an opponent.
"I was offered ministries repeatedly after I left the BJP. But I denied them. After leaving the BJP, I floated my own outfit, the Mahagujarat Janata Party (MJP)."
When Keshubhai floated the GPP, he joined in too.
Does Zadaphia, who was accused of making calls to now convicted Babu Bajrangi before the Naroda Patiya massacre and also of 'twiddling his thumbs' as minister of state for home, still believe in Hindutva?
"My party's ideology is very clear - Equality for all and appeasement to none," he said, tongue firmly in cheek.