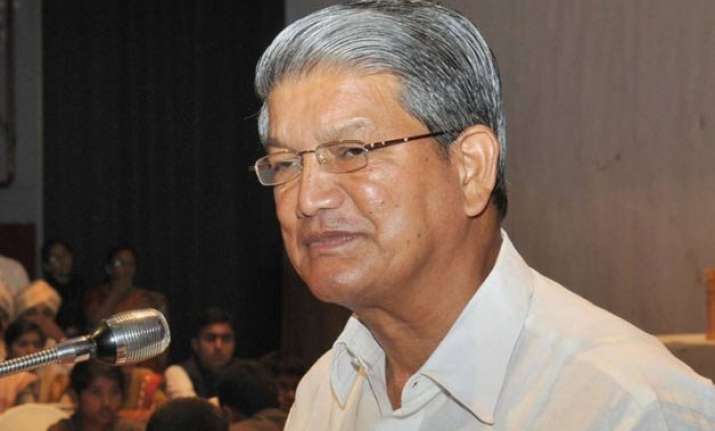 Dehradun: Hours after sacking Uttarakhand Chief Minister's personal secretary for being allegedly linked to a bribery deal for liquor licences, BJP today sought dismissal of Harish Rawat government and demanded a CBI probe into both, the 2013 disaster and the bribery, scams.
Under fire over a sting video purportedly showing Chief Minister Harish Rawat's personal secretary Mohammed Shahid negotiating a bribery deal with a middleman for liquor licences, Uttarakhand government had removed the official from the post and other key responsibilities.
A BJP delegation, led by Tirath Singh Rawat, met Governor K K Paul to demand the dismissal of the state government in the wake of the sting CD released by the party.
Seniors leaders, including former chief minister Ramesh Pokhriyal Nishank and Leader of Opposition in the state Assembly Ajay Bhatt, were also a part of the delegation.
"We have sought dismissal of Harish Rawat government and a CBI probe into both disaster scam and the bribery scam in allocation of liquor licences as exposed by the sting video," Pradesh BJP Chief Tirath Singh said.
While state DGP B S Sidhu is looking into the authenticity of the sting CD, Chief Secretary N Ravishankar recently gave a clean chit to officials in the alleged disaster scam, saying no irregularities were detected anywhere.
The government was also stripped of some of the key departments he was in-charge of including corruption elimination, Suraj and public grievance.
However, Shahid continues to hold the charges of some other departments such as minority welfare, the release said. In a late last night development, an order to this effect in public interest was issued, an official release quoting Joint Secretary Personnel Atar Singh said.
The move follows a letter written yesterday by Shahid to the Chief Secretary in which he had requested him to absolve him of these responsibilities pending an ongoing inquiry into the authenticity of the sting CD.
The decision is understood to have been taken on the direction of the chief minister so that the neutrality and fairness of the ongoing inquiry into the episode is not doubted.