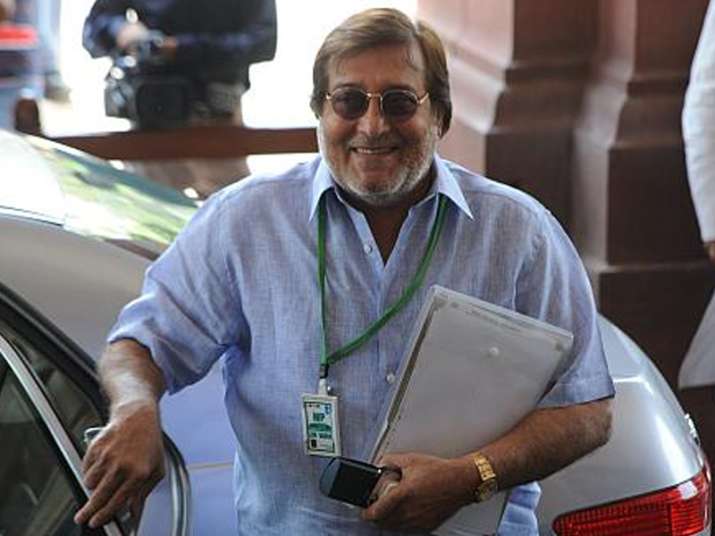 Veteran actor-politician and former Union minister Vinod Khanna died here after a prolonged illness. He was 70.
Khanna, four-time MP from Gurdaspur, was hospitalized over a month ago for cancer but the family then remained tight-lipped. 
Khanna was admitted to Sir HN Reliance Foundation Hospital in the first week of April. In a brief statement, the hospital said Khanna breathed his last at 11.20 am due to advanced bladder carcinoma.
Khanna is survived by his former wife Geetanjali and their sons Akshaye and Rahul, who are now actors, and his present wife Kavita and son Sakshi and daughter Shraddha.
Condolences from various quarters poured in as soon as the news of Khanna's demise spread:
* Heartfelt condolences on the passing away of Shri Vinod Khanna, a highly talented and acclaimed actor & MP: President Mukherjee
Will always remember Vinod Khanna as a popular actor, dedicated leader & a wonderful human. Pained by his demise. My condolences.

— Narendra Modi (@narendramodi) April 27, 2017
* Saddened by the demise of Vinod Khanna ji, I extend my deepest condolences to his family and millions of fans. In Vinod Khanna ji, we have not only lost an actor par excellence but an outstanding politician, an irreparable loss for Indian cinema & BJP. He will remain in our hearts through his peerless acting and service as a Parliamentarian. May God bless the departed soul. Om Shanti Shanti: Amit Shah
* Vinodji had a rare and profound influence over the masses with his simple and charismatic character. He dominated the silver screen with his outstanding persona: Sonia Gandhi
Deeply saddened by the demise of BJP leader and veteran actor, Shri Vinod Khanna. Heartfelt condolences to his family and fans.

— Piyush Goyal (@PiyushGoyal) April 27, 2017
* A talented actor and an icon for an entire generation of cinema lovers. Mr Vinod Khanna's passing is indeed a sad loss. Condolences to his family: Rahul Gandhi
* Deeply saddened to hear about the loss of legendary actor Vinod Khanna ji. My condolences to the family. RIP: Sachin Tendulkar
* ​Shri Vinod Khanna had an illustrious career in films and politics. He carved a special place in the hearts of millions of Indians. With the demise of Vinod Khannaji the people of India have lost a fabulous actor and sensitive politician. May his soul rest  in peace: Rajnath Singh
* Strange coincidence. Friends Vinod Khanna and Feroz Khan die the same day 27th April. Khan sahab passed away 27th April 2009 Bangalore. Last of the actors born in 1946,Peshawar,then British India,leaves us-Vinod Khanna.: Rishi Kapoor
Remembering the good times with you,Vinod. Thank you for being my friend. pic.twitter.com/hvZoYeQMEF

— Rishi Kapoor (@chintskap) April 27, 2017
* Condolences on sad demise of veteran actor & BJP MP Shri Vinod Khanna ji, may God render peace to the departed soul & solace to his family. Shri Vinod Khanna ji was a great actor and a gentleman politician - will miss him: Arun Jaitley
* ​Heard about the sad demise of Vinod Khanna ji. Kind, considerate, a legend in his own right. Had the honour of producing a series with him. My condolences to his loved ones and prayers so that his soul rests in peace. Vinod ji will truly be missed. Om Shanti !: Smriti Irani
अभिनेता और भाजपा सांसद श्री विनोद खन्ना के असामयिक निधन का समाचार अत्यंत पीड़ादायी है। ईश्वर उनकी दिवंगत आत्मा को शांति प्रदान करे।

— Yogi Adityanath (@myogiadityanath) April 27, 2017
हिन्दी फिल्म जगत के बेहतरीन अभिनेता एवं सांसद विनोद खन्ना जी का निधन दुखद। ईश्वर उनकी आत्मा को शांति दें।https://t.co/8ZaFwL5C1t

— Nitish Kumar (@NitishKumar) April 27, 2017
* I deeply mourn the demise of senior BJP parliamentarian Vinod Khanna, a versatile film personality and a great human being: Nitin Gadkari 
* Saddened to know about the demise of one of the greatest legends of Indian Cinema, Former Union Minister and BJP MP Vinod Khanna ji. Vinod Khanna ji will be remembered forever for his contribution in film industry & politics both. Condolences to his family, friends & fans!: Devendra Fadnavis
* My heartfelt condolences to family & fans of veteran actor & dynamic leader Vinod Khanna ji. May his soul rest in peace: Vasundhara Raje‏
May the departed soul rest in peace pic.twitter.com/027cZQ0Yx3

— Mamata Banerjee (@MamataOfficial) April 27, 2017
अपने दमदार अभिनय से लोगों के दिलों पर राज करने वाले अभिनेता और भाजपा सांसद विनोद खन्ना के असामयिक निधन का समाचार अत्यंत पीड़ादायी है।

— ShivrajSingh Chouhan (@ChouhanShivraj) April 27, 2017
* Sad to learn about the passing away of #VinodKhanna Sir,one of the most charismatic actors...truly end of an era.Condolences to the family: Akshay Kumar
* It is saddening to hear of the demise of Vinod Khanna ji. I have watched him as a child and throughout my life was always fascinated by his style and charisma. He was always a thorough gentleman. A big loss to the fraternity. He was and always will be family to the Dutts: Sanjay Dutt