Follow us on The Bharatiya Janata Party today swept the Uttarkhand Assembly elections 2017 with a resounding victory that will see the saffron party reclaim the state from the Congress, to which it had lost in the 2012 Assembly elections. The BJP has emerged victorious on 57 assembly seats, with the Congress reduced to 11 seats.
Congress' show in Uttarakhand was one of the worst shows put up by the ruling party in the state in the recent past. 
The defeat of incumbent Chief Minister Harish Rawat from both the Assembly seats he contested from was enough to tell the sorry state the Congress has found itself in. Rawat lost to Yatiswaranand of the BJP by 12,278 votes in Haridwar Rural, and to Rajesh Shukla in Kichha by a margin of 2,154 votes.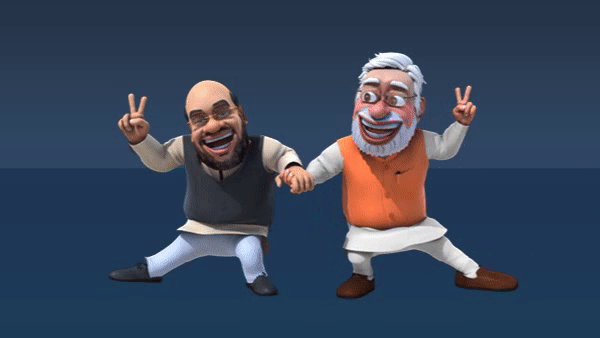 Meanwhile, the BJP has convened its Parliamentary Board, the highest decision making body of the party, on Sunday to decide the name of the Chief Ministerial candidates of the states. 
In a press conference held earlier today, BJP President Amit Shah gave no hints on the future CM. The party president said that the Chief Minister candidate will be "decided on the basis of merit". "We will elect the best".
However, names of former state BJP chief Trivendra Singh Rawat and party National Executive member Satpal Maharaj have started doing the rounds as front runners for the coveted post. 
Rawat, a swayamsewak of the Rashtriya Swayamsewak Sangh (RSS) and party in-charge in Jharkhand, won his traditional Doiwala seat by defeating Congress' Hira Singh Bisht by more than 24,000 votes.
He is said to be in close touch with Prime Minister Narendra Modi when the latter was a General Secretary (Organisation) of the BJP, and in charge of Uttarakhand. Sources said he still shares a good rapport with the Modi, who is now the Prime Minister of the country and towering face of the party.
"Rawat is a man of the organisation and has a clean image. He is close to RSS, PM Modi and Shah too," a senior BJP leader from Uttarakhand told new agency IANS on condition of anonymity.
Maharaj, on the other hand, is the head of the Manav Utthan Sewa Samiti and teaches meditation techniques called "Knowledge". He has a huge following across the state and other parts of the country.
He is considered a good administrator and has served as Union Minister of State for Railways, earlier.
It is worth a mention that in February 2014, Satpal Majaraj openly criticised Harish Rawat's elevation as Chief Minister of Uttarakhand and went on to join to join BJP after quitting Congress. 
Maharaj won Chaubattakhal constituency by defeating Congress' Rajpal Singh Bisht with a margin of over 5,000 votes.
Besides these two leaders, state BJP chief Ajay Bhatt is also a likely contender, but he lost his own election from Ranikhet assembly seat.
Other senior leaders, including former Chief Ministers B.C. Khanduri, Bhagat Singh Koshyari, Vijay Bahuguna, Ramesh Pokhariyal Nishank are also lobbying to become Chief Minister of the state.
According to BJP sources, none of these are likely to be considered for Chief Minister.
"Khanduri is almost unlikely because of his age (82). Bahuguna switched to BJP after a long career in Congress. Nishank is a Brahmin face but he is an MP and is likely to work in national politics. Koshyari has also very little chance," another BJP leader said.
Prominent BJP winners or those on the victory lap included Ritu Khanduri, Kedar Singh, Satpal Maharaj, Bharat Singh, Madan Kaushik, Dhan Singh Rawat and Saurabh Bahuguna, son of former Chief Minister Vijay Bahuguna.
Highlights: 
* Uttarakhand results: BJP wins 51 seats, leading on 6. Congress wins 11 and Independents 2 seats.  
* I take full responsibility for the loss: Harish Rawat when questioned if there was someone else to blame since he had not served a full five-year term as CM  
* Everyone knows why they (defectors) went on to the BJP. Still, people have proved that their decision was correct. I respect it: Harish Rawat to India TV 
* All those people whom BJP had levelled allegations on ultimately became pure once they joined BJP: Harish Rawat
* It was never about my image, it was a propaganda by the BJP: Harish Rawat tells India TV
* If my loss leads to victory for the people of Uttarakhand, I accept it and congratulate the people of the state: Harish Rawat
* We took the decision to pass the budget in the interest of the people. I respect their verdict: Harish Rawat on the crisis his government faced last year 
* It is clearly Modi's day today: Harish Rawat tells India TV
* 
* 
* BJP president Amit Shah addresses press conference, says results in five states extremely encouraging.
* Uttarakhand Chief Minister Harish Rawat tenders resignation 
* Latest trends: BJP heading for a clean sweep, currently leading on 59 of 70 seats. Congress ahead on 9 seats 
* BJP president Amit Shah congratulates party workers and people of Uttarakhand. Says, "This is victory for the corruption-free governance and pro-poor policies of PM Modi." 
* Harish Rawat loses from Kichcha seat as well
* Fresh leads: BJP leads on 48 of 70 seats, Congress ahead on 19 seats
* Big setback. Harish Rawat loses from Haridwar (rural) seat by 12,000 votes
* Trends in for all 70 seats. BJP leading on 55 seats, Congress leading on 13 
* Harish Rawat now trailing from both seats of Kichcha and Haridwar (rural) 
* BJP looks set for clear majority, trends suggest BJP leading on 53 seats, Congress on 12 
* Latest trends suggest BJP leading at 49, Congress ahead on 13. BSP leads on 2 seats, Others on 1 
* Trends suggest clear majority for BJP. Now leads on 48 seats against Congress which is ahead on 11 
* BJP now leading on 42 seats out of 70, Congress ahead on 12. Trends in for 56 seats  
* Trends suggest BJP leading on 35 seats, Congress on 10. BSP and Others leading on 1 seat each 
* BJP leads on 35, Congress on 10. Bahujan Samaj Party and Others on 1 seat each. 
* Latest trends: BJP now ahead on 26 seats, Congress leads on 10
* Trends for 27 seats in, BJP leads on 18 seats, Congress ahead on 9
* Chief Minister Harish Rawat of Congress trails from Haridwar (rural). He is contesting from two seats.
* Trends in for 14 seats. BJP now leads from 10 seats, Congress ahead on 4 seats 
* Trends suggest BJP now leads from 10 seats, Congress ahead on 1 seat 
* As per initial trends, BJP now leading on 5, Congress on 2 seats 
* First trends suggest Congress leading on 3, BJP on 2 seats  
* Initial trends for 5 seats: Congress leading on 4 seats, BJP on one seat.   
* First trends in, BJP and Congress lead from one seat each
Polling for 69 out of a total of 70 seats was held in Uttarakhand on February 15. Voting for the Karnaprayag seat had to be rescheduled by the commission for March 9 owing to the sudden death of BSP nominee Kuldip Singh Kanwasi in a road accident just a couple of days before the polls. 
There are a total of 70 assembly seats in Uttarakhand from where main power contenders Congress and BJP have fielded their candidates. 
Key Constitutencies
With a number of Congress turncoats trying their luck as BJP candidates, all eyes were on constituencies like Narendranagar, Bajpur, Roorkee, Khanpur, Kedarnath, Kotdwar, Sitarganj and Nainital from where erstwhile Congress rebels or their wards have been fielded by the saffron party. 
Barring Amrita Rawat and Vijay Bahuguna, all Congress turncoats who are also sitting MLAs, have been fielded by the BJP.  However Amrita's husband Satpal Maharaj and Bahuguna's second son Saurav Bahuguna were in the fray as BJP nominees. 
It will also be interesting to see what happens in Sahaspur from where PCC president Kishore Upadhaya is contesting. 
Ranikhet is important as state BJP president and Leader of Opposition Ajay Bhatt is contesting from there whereas Dhanolti holds much interest as Congress is supporting independent nominee Pritam Singh Panwar from the seat despite fielding Manmohan Mall from there.
The tenure of Uttarakhand Assembly ends on March 26. The elections here were first conducted in 2002 and both the Congress and the BJP have swapped power ever since.