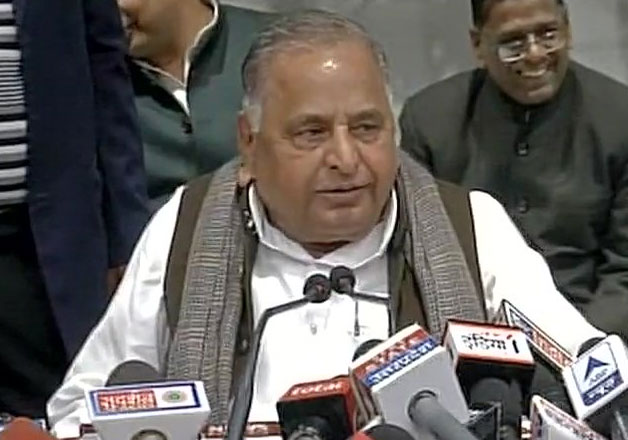 Samajwadi Party supremo Mulayam Singh Yadav today declared a list of 325 candidates for the upcoming Uttar Pradesh Assembly polls.
Ticket were given to 176 sitting MLAs whereas 53 incumbent legislators have been denied tickets including senior minister and close Akhilesh Yadav aide Arvind Singh 'Gope', Pawan Pandey. Singh's ticket has been given to Rakesh Verma, son of senior party leader Beni Prasad Verma.
As per the list announced by Mulayam, Azam Khan will contest from Rampur, Gayatri Prasad Prajapati from Amethi, Ram Shankar Katheria from Kaimganj, Pinki Yadav from Asmoli, Harish Lodhi from Dibai, Tejvir Singh from Chhara, Raja Mahendra Aridaman Singh from Bah, Mohd Rehan from Lucknow West, Ravidas Mehrotra from Lucknow central, Mahendra Singh Patel from Rohanya and Durga Prasad Yadav from Azamgarh.
The list carries names of Sigbatullah Ansari, who is the brother of jailed gangster Mukhtar Ansari, and Atiq Ahmed who faces over 40 criminal cases including of murder and attempt to murder. Akhilesh, who is believed to be opposed to their nomination, had reportedly asked his father to intervene.
Another name which had upset Akhilesh was Aman Mani Tripathi, now arrested by CBI in a case related to the killing of his wife, has, however, did not figure in today's list.
Mulayam, addressing the media here in the presence of brother and party leader Shivpal Yadav, said that the names of candidates for rest of the 78 seats will be announced soon and predicted that polls will be held before February 28.
The new list may bitter the power struggle in the Samajwadi Party. It may be recalled that both Akhilesh and Shivpal had submitted  different list of candidates to Mulayam.
Chief Minister Akhilesh Yadav was not present in the press conference.
"We have declared a list of 325 candidates for upcoming 2017 assembly polls, 78 seats still remain," Mulayam said.
Shivpal Yadav will contest from Jaswant Nagar, news ANI reported. Party leaders informed that a staggering 4,200 persons had applied for party tickets.
When asked whether he had selected a majority of names from CM Akhilesh Yadav's or Shivpal's list, Mulayam said, "I have selected candidates on my own."
It is learnt that Akhilesh's name does not figure on the list which was released today. The SP supremo, however, hinted that the CM can contest this time.
"The second list will be out. Akhilesh can contest from any seat," Mulayam said.
Further, he said that the Samajwadi Party will not enter into any alliance with any party for the polls.
"Samajwadi party is not forming an alliance with anyone," he said.
The latest remark from Mulayam is another snub to Akhilesh who was appeared not averse to an alliance with Congress. In facts, reports were doing the rounds in media that both parties have reached to a seat sharing formula and an announcement is expected anytime in near future.
The Samajwadi Party supremo also took a jibe at Prime Minister Narendra Modi, saying 'people will teach a lesson to the BJP on demonetisation'.
He said Modi has faced hardships and has travelled till Uttar Pradesh but he has not lived up to his promises that he made in 2014.
However, Akhilesh is till yet unaware of the major development. He said, "I have no clue about who all are there in the list as I was not present there."
The Samajwadi Party has 224 seats in the present assembly. Uttar Pradesh wil go to polls early next year.