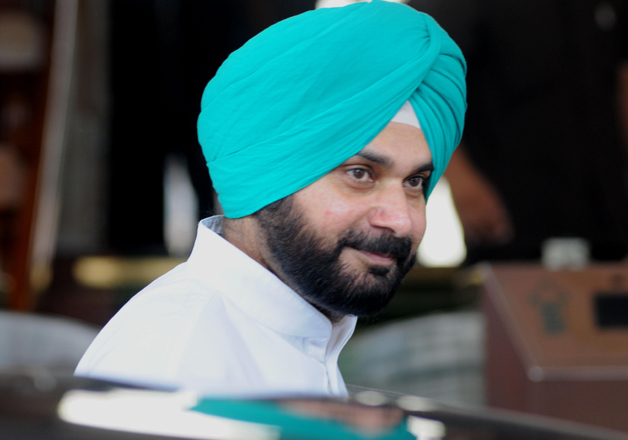 After months of speculation and failed talks with the Aam Aadmi Party (AAP), former Bharatiya Janata Party MP Navjot Singh Sidhu is likely to join the Congress on January 9 or 10.
His wife Navjot Kaur Sidhu has already joined the party.
The Congress has already announced that the cricketer-turned-politician will contest from Amritsar East constituency in the upcoming Assembly polls in Punjab.
"Navjot Singh Sidhu will contest from the constituency of his wife Navjot Kaur Sidhu," Punjab Congress Committee president (PCC) Captain Amarinder Singh told reporters in Delhi on Thursday.
"Sidhu will contest from Amritsar (East) seat as a Congress nominee," he added.
He will formally join the Congress after party Vice President Rahul Gandhi arrives back from his visit abroad on Sunday, sources said.
Sources said Sidhu may join before the January 11 national convention convened by the party in the national capital to take forward its agitational programme against demonetisation and other "anti-public" policies of the Modi government.
Sidhu has already met Gandhi a few days ago and is likely to hold another meet with him before formally joining the party. He also met with Amarinder Singh last month.
Amarinder has said that the former cricketer Sidhu may join soon as his wife has already joined the party.
Navjot Kaur Sidhu, the former BJP MLA from Amritsar East, has also stated that Sidhu may contest from her seat in the upcoming assembly polls in Punjab slated on February 4.
Sidhu has so far not opened his cards ever since he formed a front - "Awaaz-E-Punjab" with former Akali MLA Pargat Singh and Bains brothers from Ludhiana.
Pargat has since joined Congress along with Sidhu's wife, while the Bains brothers have aligned with AAP.