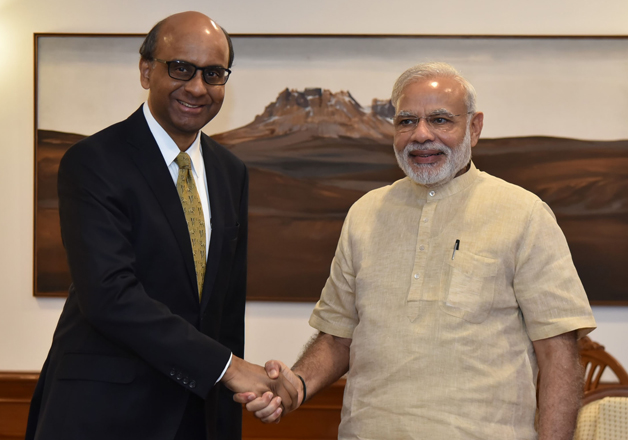 Singapore Deputy Prime Minister Tharman Shanmugaratnam today said that India's 'reforms agenda is largely unfinished' and that the 'pace of reforms must be stepped up'.
"You are on a good batting wicket but you can't keep on scoring singles," Tharman told PM Narendra Modi soon after the latter, at the inauguration of a NITI Aayog sponsored lecture series, sought fresh ideas to take the country forward.
The Deputy PM of Singapore earlier called on Prime Minister Narendra Modi and briefed him on the status of various bilateral cooperation initiatives, especially in the areas of skill development and smart cities.
Noting that India is the third-largest economy in Asia, Tharman said that the biggest hurdles for investments in India are its land and labour laws.
"Make in India can't be just make in India. It has to be make in India for the world," he said.
At the event, Modi said his government will seek inputs from eminent people abroad to transform India.
"We will draw the best from the knowledge of eminent person who made their nations a better place in the planet. Our next step is to bring ideas from outside. Culturally, Indians have always been receptive to ideas from elsewhere. This is the purpose of transforming India lecture series," he said, welcoming Tharman.
The BJP-led NDA stormed to power in May 2014 on the promise of scripting a growth story for India.
The government has taken initiatives in last two years to boost the country's economy. From opening FDI route to the recently passed GST Bill, the government claims that its reforms initiatives will result in achieving over 9 per cent growth rate.
During his earlier meet with the Indian PM at latter's official residence, 7, RCR, the two leaders discussed the progress of the two sides bilateral relations which was upgraded to a 'strategic partnership' during Modi's visit in November last year.
The Indian PM said that he was keenly looking forward to Prime Minister Lee Hsien Loong's visit to India in the near future.
He also conveyed his heartfelt condolences to the people of Singapore on the demise of former president SR Nathan.