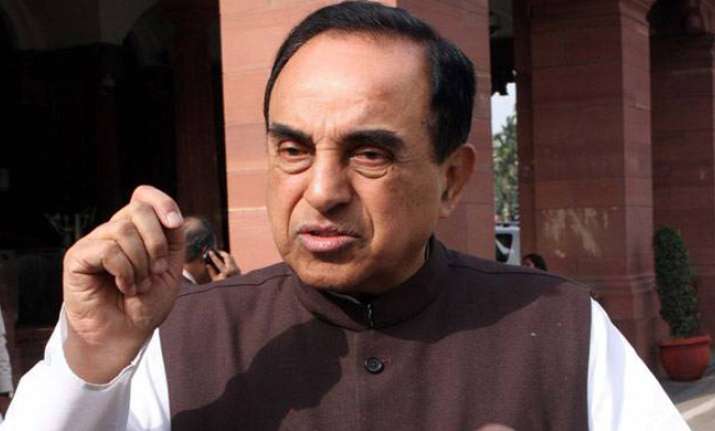 Senior Bharatiya Janata Party (BJP) leader Subramanian Swamy today said that the BJP can't run away from the 'Ram Temple' issue as it is part of the manifesto that the party released ahead of the 2014 Lok Sabha elections. 
"The Ram Temple issue is a part of our manifesto in 2014, how can we run away from it? We have to deliver," Subramanian Swamy said.
Conceding the point that the matter cannot be resolved forcibly, Swamy said that the Supreme Court needs to take some action as the matter is pending for last six years.
"Now it's time for the matter to be heard and disposed of and the Muslim party is also agreeable for the hearing. I am filing an application on this main matter seeking the court to issue notice to the government," he said.
On Tuesday, the Congress had accused the BJP of selling the name of Lord Ram to siphon off a victory in Uttar Pradesh.
"The Congress has nothing to do with the BJP constructing a museum there (Ayodhya), or the Samajwadi party organising things for the Ramayana mela. The Bharatiya Janata Party (BJP) is selling the name of Ram in the wake of upcoming UP polls," Congress leader DP Singh said.
Vinay Katiyar, BJP MP in Rajya Sabha, has also asked the Modi government to intensify its efforts to construct Ram temple in Ayodhya instead of giving 'lollipop' (Ram museum) to please the people.
"It's a big mistake; effort should be made to construct the Ram Mandir (temple); this 'lollipop' (Ram Museum) won't work. People are asking  when will the Ram Temple be constructed? This (Ram Museum) is a lollipop, it doesn't have much importance, and thus, they should make positive effort. I would have said this had I been there. It's good that I did not go there," Katiyar said.