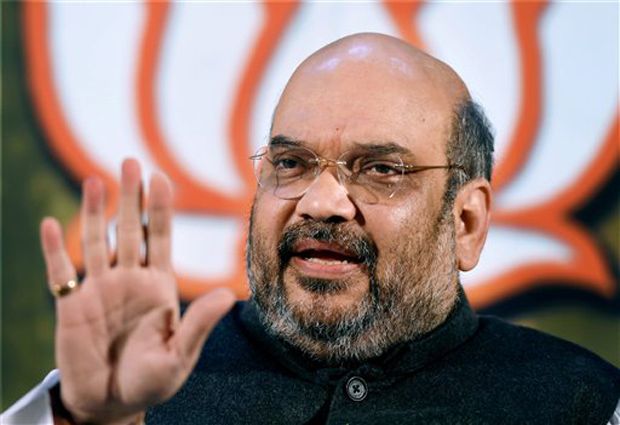 Bharatiya Janata Party president Amit Shah today denied speculation over his possible role in the leadership of the central government, saying he has no plans to be a part of the Union Cabinet and is happy with expanding the party base ahead of the Lok Sabha elections in 2019.
Addressing a question by India TV at a press conference he was addressing along with Uttar Pradesh Chief Minister Yogi Adityanath in Lucknow, Shah said he was happy with his current role in the party and harboured no plans to be part of leadership in the central government. 
Speculation has been rife in political circles, including sections of the BJP, of Shah's possible appointment as a minister following his entry into the Rajya Sabha. The BJP has chosen to field Shah from one of the three seats that will see elections on August 8 in the Upper House. Shah's win is being considered almost certain, paving way for his entry into the Upper House for the first time. 
Amit Shah attacks opposition 
Addressing a packed news conference in the state capital, Shah blasted the Opposition and the erstwhile UPA government for being 'ineffective'. Shah said that the UPA government's name emerged in scams every month for ten years, but not a single case of corruption is there against Modi government in three years. 
When questioned on allegations of the BJP trying to poach Congress MLAs in Gujarat ahead of the RS polls, Shah suggested that it was the Congress that did not appear to be trusting its own legislators. He also took a dig at the Congress for 'locking up its MLAs' even in Karnataka, where the party has its own government in the state.
"Why is the Congress keeping them locked in Bengaluru where they have their own government? Why are they not free to move?" he questioned.
Shah's remarks came following a long list of desertion by Congress MLAs ahead of the August 8 poll. At least six have joined ranks with the BJP and more are expected to follow suit. 
'Didn't break any party in Bihar', says Amit Shah
The BJP chief also launched a scathing attack on RJD supremo Lalu Yadav and Congress, saying that the BJP has not broken any party in Bihar. 
"We have not broken any party in Bihar, it is Nitish ji who ended the alliance and resigned. He did not want to be among corrupt people," said Amit Shah. 
Lists Centre's achievements 
Shah, who is on a three-day visit to Lucknow, showered praise on Modi government over the 'surgical strike', demonetisation and the recently rolled out GST. He asserted that the government had taken several measures to raise the living standards for the poor. 
He said that the Centre's decision to carry out surgical strikes across the Line of Control (LoC) has proven that it will take bold steps for the security and safety of the country.
Shah also said that the whole world has now agreed that India is the fastest growing economy, adding that farmers were now getting money directly in their bank accounts. 
BJP President said he was also confident of  party's thumping victory in 2019 general elections saying, "We will win 2019 general election even with bigger mandate because of development, good governance."