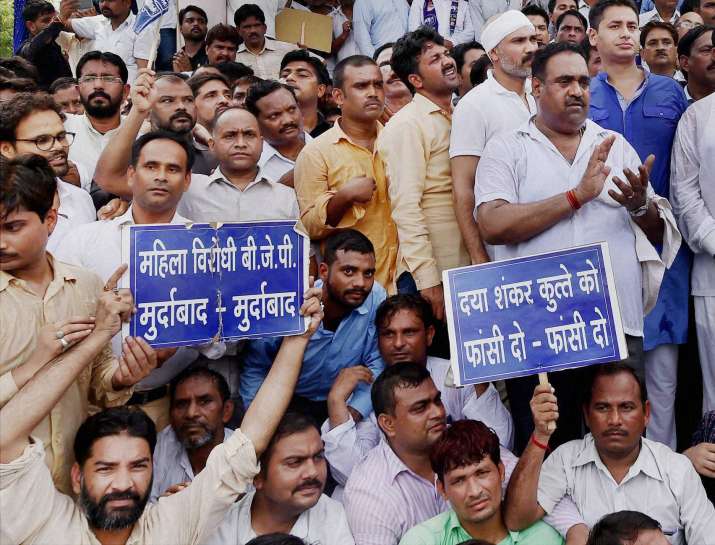 New Delhi: Even as BSP workers and supporters took to the streets in Lucknow to protest against suspended BJP leader Dayashankar Singh for his derogatory remarks against Mayawati, the response of many junior leaders in the party has not been too dignified either. 
In Chandigarh, A Bahujan Samaj Party (BSP) leader offered Rs 50 lakh as a reward for cutting off the tongue of ex-BJP leader Dayashankar Singh.
"Will give reward of Rs 50 lakh to person who gets Dayashankar's tongue. I stand by my statement," BSP leader Jannat Jahan said.
A few hours later, a lawmaker from MP attributed Dayashanakar Singh's derogatory remarks to his "faulty DNA". 
Usha Chaudhary, an MLA from Raigaon in Madhya Pradesh's Satna district, said, "There is something wrong with Dayashankar Singh's DNA, I think he is an illegitimate child."  
"The term Dayashankar Singh used for behenji (Mayawati), I think his family is like that only," Chaudhary said. 
Meawhile, Mayawati today said that her supporters treat her like a goddess and she could not control them. 
"I am not just treated as behen-ji (sister) they respect me like a Devi (Goddess). They are angry at the language used for me and I can not control them," Mayawati said. 
She further said, "I want to tell BJP that, suspending him wasn't enough. If BJP leaders themselves filed an FIR against Dayashankar Singh, then they would have won my heart, remarks BSP supremo." 
Dayashanakar Singh, a vice president in UP BJP until yesterday, had blurted derogatory slurs against Mayawati in Uttar Pradesh's Mau on Wednesday.
"Even a prostitute fulfills her commitment after she is paid. But Mayawati sells party tickets to anyone who paid her the highest amount. If someone gives her Rs 1 crore for a ticket she will give it to other person who is offering Rs 2 crore," Singh said.
"Mayawati has become worse than a prostitute and abandons the ideals of Kanshi Ram," he said.
A few hours later after the news broke out, he was removed from all party posts by the BJP. Later in the evening, he was suspended from the party for six year as BSP lodged a police complaint against him.
BSP workers came out on Lucknow streets today to demand the arrest of Singh. 
State BSP president Raj Achal Rajbhar who was leading the protests told the media that the statement had revealed the "anti-Dalit mentality" of the BJP.
"Dayashankar must be put behind bars for such a mentality. Matter does not end by just apologising," party leader Satish Mishra told reporters in Delhi.
Senior party leader Naseemuddin Siddiqui, who joined the protests in Lucknow, said that the demonstrations would continue until Singh was arrested.