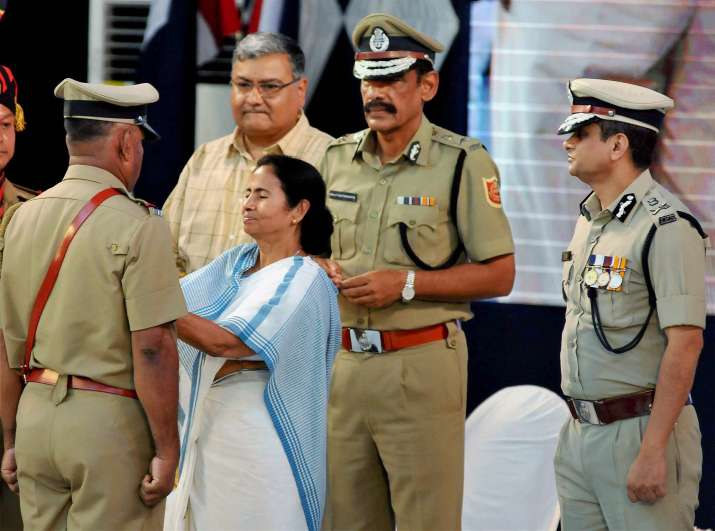 West Bengal Chief Minister Mamata Banerjee on Saturday termed the GJM-led agitation for a separate Gorkhaland a "deep-rooted conspiracy," supported by insurgent groups of the north east and some foreign countries even as her government wrote to the Centre seeking more forces to quell the current unrest in Darjeeling hills as the violence claimed lives of three Gorkha Janamukti Morcha workers besides leaving injured at least 35 security personnel with one officer in critical condition. 
"We have asked for more forces from the Centre. We have sent another request today," a senior official in the state home department told PTI today on condition of anonymity. 
The Centre had held back sending additional paramilitary personnel meant for Darjeeling on Friday till the receipt of the West Bengal government's report on the situation there. 
Asked whether the state government was ready with its report for the Centre on the situation in the hills as sought by it, the official said, "It has been taken care of and it would be sent soon to the Centre. Going by the situation it was realised that current strength of forces in Darjeeling are not enough and we need more." 
West Bengal Chief Minister Mamata Banerjee when asked described the sending of report to the Centre as a "routine matter." 
"It's a routine matter. They (Centre) will send the forces at the appropriate time. There is no problem," Banerjee said. 
Asked whether police would continue with its raids in the hills tonight, the official hinted at more arrests. 
"Raids will continue. In fact, there will be raids tonight itself which will be on the basis of our intelligence inputs," he said adding anybody flouting the law and order in the hills would face "tough handling" by the police.
Violence a deep-rooted conspiracy, claims Mamata Banerjee 
Banerjee has termed the GJM-led agitation for a separate Gorkhaland a "deep-rooted conspiracy," supported by insurgent groups of the north east and some foreign countries.
Banerjee said the kind of "hooliganism and vandalism," being seen during the unrest in the hills, can only be executed if there is a "terrorist brain" behind it and the Centre should extend full help to the state to contain it.
"There is a terrorist brain behind this hooliganism and vandalism. Only a terrorist and not a common man can do this. We have got clues that this has terrorist connections. They (GJM) have connections with underground insurgent groups of the north east ... I request them (insurgent groups) not to extend any support to the GJM," Banerjee told reporters at the state secretariat. 
She said the GJM was being helped by some other countries too but did not elaborate. 
"What is happening today is a deep-rooted conspiracy. So many bombs and arms cannot be gathered in a day... These have been gathered for a long time. "From where are they (GJM) are getting their support? Their advantage is it (Darjeeling) is a hill area and there are borders with other states and international borders. 
"They are using the national flag for vandalism, which they cannot do. I will request the Central government not to encourage them to behave like this. If anything happens to any foreigner (tourist) it will bring bad name to the country," Banerjee said. 
Her remarks drew a derisive response from BJP chief Amit Shah, who said she saw "conspiracy in everything". 
"Mamata sees conspiracy in everything. She had made similar allegations against the Indian Army as well," Shah told a press conference in Mumbai.
Meanwhile, the GJM yesterday ruled out any discussion with West Bengal government but said it is "comfortable" in holding talks with the BJP-led government at the Centre. 
The BJP is an ally of the Gorkha Janamukti Morcha (GJM) and party MP S S Ahluwalia had won the 2014 Lok Sabha elections from Darjeeling with its help. 
"We are not ready for talks with West Bengal government. Mamata Banerjee has insulted us, she has called us terrorists," GJM leader Binay Tamang said.