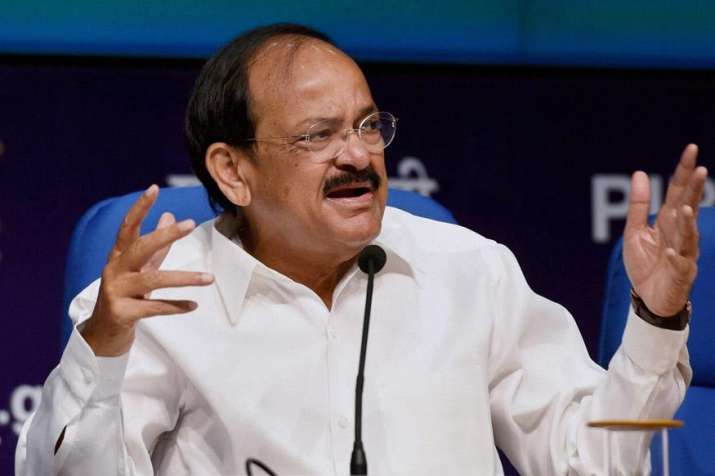 Information and Broadcasting minister M Venkaiah Naidu on Saturday lashed out at those criticising the one-day ban on a Hindi news channel for revealing "strategically-sensitive" details while covering the Pathankot terrorist attack, saying the "belated criticism" is clearly "ill informed and politically inspired" to create a controversy.
"The belated criticism of the action proposed to be taken against NDTV India for violating the norms of live coverage of anti-terrorist operations by security personnel in Pathankot in January this year is clearly ill informed and politically inspired," Naidu told reporters. 
"Such reactions that came a day after the Government's decision was in public domain on November 3, 2016 was clearly an afterthought, suggesting a motivated design to create a controversy where none existed," the senior minister said. 
He asserted that people of the country should know that the UPA Governments, during 2005-14, ordered several TV channels to go off air in 21 instances, for a period ranging from one day to two months for showing obscene visuals including 13 cases of telecasting 'Adult' rated certified films. 
One channel was taken off air for 30 days for telecasting a sting operation, he said. 
Responding to criticism by Editors Guild of India, Naidu said, "The Editors Guild of India, a responsible organisation that took a full day to come out with its response should realise that under Sub-section (2) of Section 20 of the Cable Television Networks (Regulation) Act, 1995, Central Government is required to regulate or prohibit the transmission of any channel or programme in the interest of sovereignty, integrity and security of India and as per Para 8.1 of Uplinking Guidelines, is empowered to take action for transmitting any objectionable content inconsistent with public interest."
"Therefore, the Government is not required to approach the Courts in such cases, as suggested by the Guild," he added. 
"I leave it to the wisdom of the Editors Guild to ponder if the decision against NDTV India for the reasons explained is really reminiscent of the dark days of Emergency," he further said. 
Naidu said that very recently in an interaction, he had stressed that effective self-regulation by media is the best way of protecting its freedom and we are committed to it. 
"I also said that freedom is best upheld when its value is fully appreciated. In this case, that much valued freedom was not put to best use by NDTV India. I am happy to note that the people of the country are broadly with the decision in the matter of NDTV India," he said. 
Always, there will be a minority who are critical of whatever the Government does in the best interest of the country, Naidu added. 
The minister also said that in several advisories issued by the previous UPA Government, all news and current affairs TV channels were clearly asked to exercise restraint, maturity and sensitivity while reporting on anti-terrorist operations in the larger interest of safety and security of security forces involved in such operations and civilians. 
Expressing concern over continued violations, the then UPA Government concluded that any coverage violating such norms amount to coverage against the interests of the nation, he added.
(With PTI inputs)