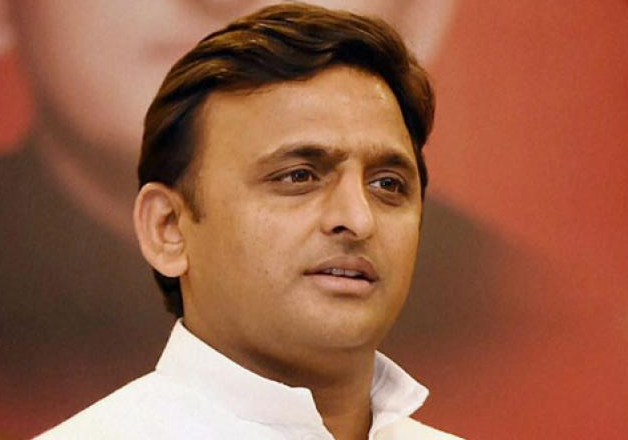 A day after Samajwadi Party supremo Mulayan Singh Yadav announced the names of 325 candidates for upcoming Assembly polls, Chief Minister Akhilesh Yadav today met several party MLAs and his supporters here, indicating another round of power tussle within the Yadav family.
During the meeting, which took place at his official residence 5, Kalidas Marg, Akhilesh assured his supporters that he will fight till the end to protect their interests. MLAs who attended the meet include - Dharmendra Yadav, Arvind Singh Gope and Abhishek Mishra.
After the meeting, it is believed that Akhilesh will convey his grievances to Mulayam.
The meeting comes in the backdrop of announcement of 325 names by Mulayam who overlooked his son's preferences and accommodated the choices of his brother Shivpal Yadav.
Akhilesh was touring Bundelkhand, when Mulayam announced the names, dumping several key aides of Akhilesh including sitting MLAs.
During the meet, Ministers and MLAs said that party workers and people of state are with Akhilesh and that he should take decisions fearlessly.
Suspended SP MLC Udayveer Singh, a close aide of Akhilesh, even citied a couplet from the Ramayana to express his support towards the Chief Minister.
Arvind Singh Gope, who has been denied ticket this time, blamed Amar Singh and Beni Prasad Verma for not getting his name featured in the list which was released yesterday.
"In last election, I had defeated Beni Prasad and his supported at all seats in Barabanki. Netaji (Mulayam Singh Yadav) had last time told me to teach a lesson to Beni Prasad. The blessings of Netaji helped me in winning all seats in Brabanki and now he has not given me ticket because of these (Amar Singh and Beni Prasad) people," he said.
The ticket from Gope's constituency Ramnagar (Barabanki) has been given to Rakesh Verma, the son of senior Kurmi leader Beni Prasad, who recently made a return to the party aided by Shivpal Yadav.
Another MLA Ram Govind Chaudhary said, "At the behest of Mulayam Singh Yadav, Chandra Shekharji had made me to quit Samajwadi Janata Dal and join Samajwadi Party. I had never asked Mulayam Singh to give me ticket for contesting polls, even never demanded ministerial berth but he dumped my name from the list yesterday."
"Now I have only one aim, to ensure Chief Minister is always at the top. I will now only work for you (Akhilesh Yadav). You are my Samajwadi Party," Govind said.
Akhilesh had given his own list of 403 candidates to the party chief and father Mulayam, who preferred to field more candidates of Shivpal's choice. Ticket were given to 176 sitting MLAs whereas 53 incumbent legislators have been denied tickets including several Akhilesh's supporters.
The list carries names of Sigbatullah Ansari, who is the brother of jailed gangster Mukhtar Ansari, and Atiq Ahmed who faces over 40 criminal cases including of murder and attempt to murder. Akhilesh was vehemently against giving ticket to Sigbatullah Ansari and Atiq Ahmad, who were backed by Shivpal.
As per the list announced by Mulayam, Azam Khan will contest from Rampur, Gayatri Prasad Prajapati from Amethi, Ram Shankar Katheria from Kaimganj, Pinki Yadav from Asmoli, Harish Lodhi from Dibai, Tejvir Singh from Chhara, Raja Mahendra Aridaman Singh from Bah, Mohd Rehan from Lucknow West, Ravidas Mehrotra from Lucknow central, Mahendra Singh Patel from Rohanya and Durga Prasad Yadav from Azamgarh.