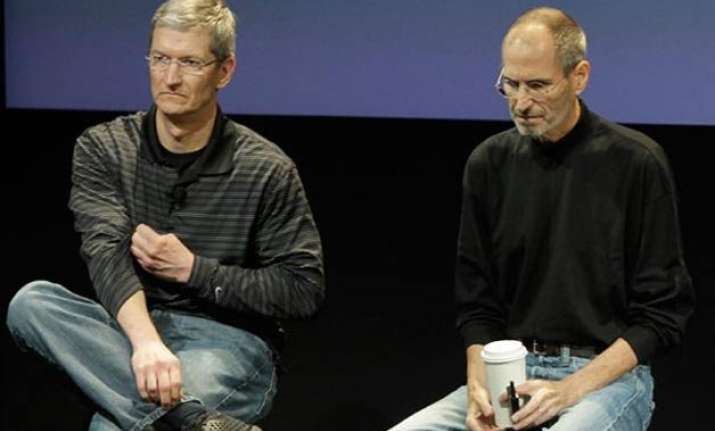 In 2009, when Steve Jobs was in his final years, dying of cancer, Apple chief executive officer (CEO) Tim Cook offered his boss a piece of his liver.
The revelation is made in a new book, "Becoming Steve Jobs: The Revolution of a Reckless Upstart Into A Visionary Leader" written by Brent Schlender and Rick Tetzeli due to be released this month.
Excerpts of the book have been published online which throws light on life of Steve Jobs as he transformed a small idea into one of the world's most powerful technology companies.
In 2004, Jobs announced that he was suffering from pancreatic cancer and by 2009, the Apple chief executive was very ill, unable to come into the office and waiting for a liver transplant. Cook, concerned about Jobs' frail condition, went to get his blood tested, according to the biography. It turned out that his blood type matched Jobs'. Doctors had suggested Cook can donate Jobs a piece of his liver, and the transfer had a high likelihood of success -- for both patients.
Livers are regenerative organs, so Cook's liver would have regrown to full size, as would have the piece of liver that Cook donated to Jobs.
But Jobs refused, the biographer says.
"'He cut me off at the legs, almost before the words were out of my mouth,' said Cook. 'No,' he said. 'I'll never let you do that. I'll never do that.'"
Jobs did go on to have a liver transplant, in March 2009. He resigned as Apple CEO in August 2011 and died in October at the age of 56.
Cook called Jobs' decision to refuse his liver unselfish.
Fellow author Brent Schlender is a journalist who interviewed Mr Jobs several times throughout his life. The book will release on March 24.