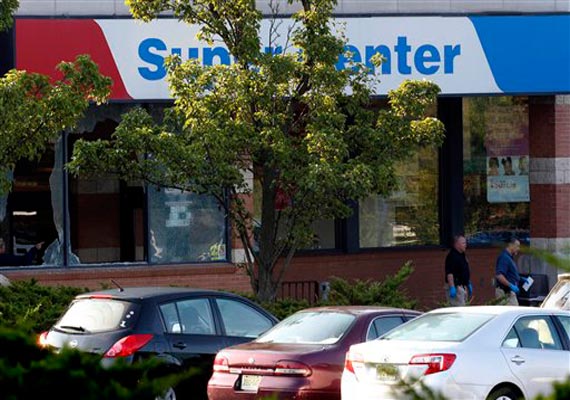 New York, Aug 31: At least three people were killed today after a gunman in body armour entered a New Jersey shopping plaza and opened fire on workers before turning the weapon on himself.
The gunman, who was apparently a disgruntled worker, entered the Pathmark grocery store in Old Bridge, a suburb about 25 miles from New York, around 4 am and shot two people and then himself, Old Bridge Mayor Owen Henry was quoted as saying by The Star-Ledger.
"This is the worst phone call a Mayor can receive," Henry said of the information he received after the shooting. "You can prepare for these things but you can't prevent them," he was quoted as saying.
Police evacuated several Pathmark employees to a nearby restaurant along Route 9 close to the Sayreville border.
Police responded to shots fired inside the Pathmark supermarket, WABC reported, adding there was a confrontation with the gunman, whose motive was not known.
Several employees were inside the store, which was preparing to open at 6 am. Two windows near the entrance to the Pathmark had also been shot out, the report said.
The scene is now under control, according to WABC, and there are emergency responders in the plaza parking lot who have been standing in front of the store for the past hour.
The gunman, who was reportedly in body armour, was tentatively identified as a man in his 20s. He was either a current or former employee of the store.
It is still not clear how many others were shot before police responded, but authorities believed the gunman killed two workers before turning the weapon on himself.
Police discovered the bodies, while several others were treated for trauma at waiting ambulances.
Today's incident came just a week after the shooting at the Empire State Building when a "disgruntled" designer, who was sacked from an apparel company, gunned down a former co-worker and then randomly opened fire on the crowded sidewalks before he was shot dead by police.
On August 5, a gunman named Michael Wade Page had fired indiscriminately in a gurudwara in Wisconsin killing six members of the Sikh community and seriously wounding three others.
The frequent shooting rampages across the country have opened a debate on the gun laws.
After the gurudwara shooting, New York Mayor Michael Bloomberg had criticised President Barack Obama and Republican Presidential nominee Mitt Romney for avoiding the issue of gun laws which, he said, were putting weapons in the hands of "dangerous people".
On July 20, a shooting massacre at a theatre in Aurora, Colorado—where a gunman opened fire during a screening of the batman movie 'the Dark Knight Rises'—left 12 people dead and over 50 injured.