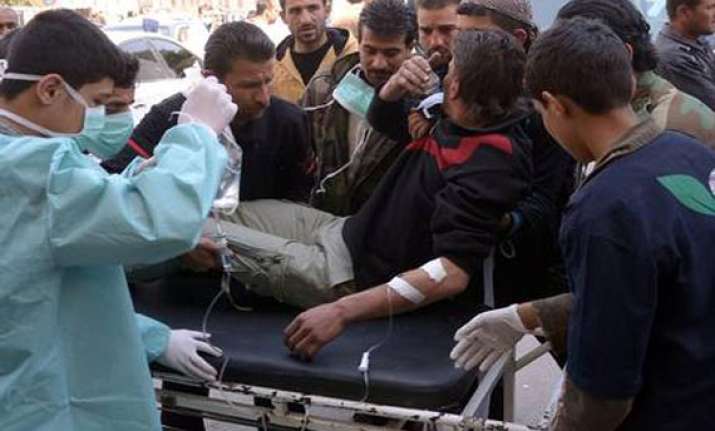 Beirut: Syrian regime forces fired intense artillery and rocket barrages Wednesday on the eastern suburbs of the capital Damascus, in what two pro-opposition groups claimed was a "poisonous gas" attack that killed dozens of people.
The Britain-based Syrian Observatory for Human Rights said the shelling was intense and hit the capital's eastern suburbs of Zamalka, Arbeen and Ein Tarma.
It quoted activists as saying that regime forces fired ""rockets with poisonous gas heads" in the attack that killed "tens of people."
Another group, the Local Coordination Committees, said hundreds of people were killed or injured in the shelling. Such different figures from activists groups are common in the immediate aftermaths of attacks in Syria, where the government restricts foreign and domestic reporting.
There was no government comment on the claims and the reports could not be independently confirmed.
The claims came as a 20-member U.N. chemical weapons team, led by Swedish expert Ake Sellstrom, is in Damascus since Sunday to investigate three sites where chemical weapons attacks allegedly occurred.
The sites they are meant to probe are the village of Khan al-Assal just west of the embattled northern city of Aleppo and two other locations, which are being kept secret for security reasons.
The Syrian government has denied claims by the opposition on chemical weapons use, saying rebels fighting to overthrow President Bashar Assad's government have used such weapons.
Following Wednesday's reports, the Observatory called upon the U.N. team in Syria and all international organizations "to visit the stricken areas and to guarantee that medical and relief supplies reach the people as soon as possible." It also called for an investigation into the attack.