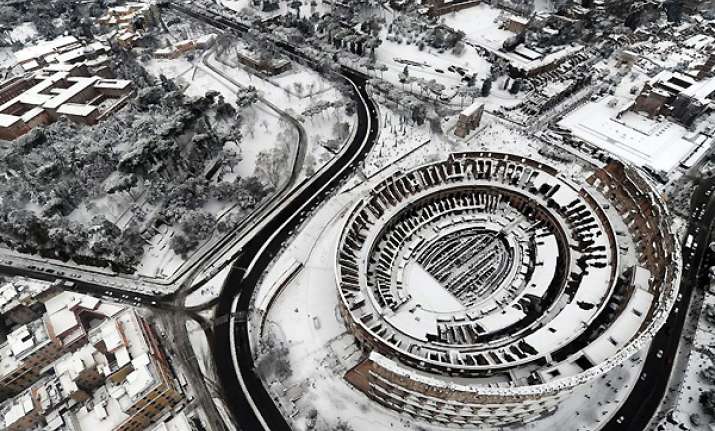 Rome, Feb 5 : The historical Colosseum was closed in Rome and drivers abandoned cars as snow fell on Rome for the first time in 26 years on Saturday.

The death toll from the vicious cold snap across Europe has risen to more than 260, with hundreds having to be rescued after a ferry caught in a snowstorm hit a breakwater off Italy.


Ukraine has suffered the heaviest toll with 122 deaths, including many who froze to death in the streets as temperatures plunged to as low as minus 38.1 degrees Celsius.


Airports were shut, flights and trains delayed, and highways gridlocked as emergency services raced to clear falling snow.

In Italy, the ferry Sharden hit a breakwater shortly after setting off from the port of Civitavecchia near Rome.


It caused panic among the 262 passengers who feared a repeat of a cruise ship tragedy in the area last month that is thought to have killed 32 people.

Coastguard spokesman Carnine Albano said the accident, which tore a 25-metre hole in the ship's side above the waterline, happened after the vessel was buffeted by a violent snow storm from the northeast.


All passengers were evacuated and no injuries reported.

Parts of the Venice lagoon also froze over.


Among the cold-weather deaths in Italy was 46-year-old woman who died in Avellino, near Naples in southern Italy, after a greenhouse roof laden with snow collapsed on her.


A homeless man in his sixties of German origin was found dead, apparently of cold, in the central town of Castiglione del Lago. These latest deaths brought the total in Italy to seven.


In Poland, the death toll rose to 45 as temperatures plunged to minus 27C in the northeast. In Romania, four more victims were found, bringing the number of fatalities in the country to 28.

The cold snap has also killed people in Bosnia, Latvia, Lithuania, Estonia, Bulgaria, the Czech Republic, Italy, Slovakia, France, Austria and Greece.


Snow fell in Bosnia for the second straight day, paralysing traffic, with one patient dying as an ambulance was unable to reach his village in the south of the country.

Two people were found dead in Croatia on Saturday, in the southern region near the Adriatic coast and the main port Split where the snow has surprised inhabitants, Hina news agency reported.


In Serbia, a man was found dead in the southern town of Lebane as the authorities in 28 municipalities, mostly in remote mountainous regions in the south and southwest, declared a state of emergency.

Maric said some "60,000 people ... or 25,000 households, have been cut off by snow" with emergency services engaged in clearing off the areas and bringing the necessities to the population.


In tiny Montenegro, where one person was found frozen to death in a village, many hamlets in the mountainous north were cut off. Rescuers managed to evacuate 120 people, among them 31 school children from neighbouring Albania on a field trip, Interior Minister Ivan Brajovic said.


But as Europe huddled indoors for warmth, Russian gas giant Gazprom said it could not satisfy western Europe's demand for more energy.


"Gazprom at the moment cannot satisfy the additional volumes that our Western European partners are requesting," the company's deputy chairman Alexander Kruglov said at a meeting with Prime Minister Vladimir Putin, according to Russian news agencies.


The freeze shut several airports in eastern and central Europe.

Further west, London Heathrow, the world's busiest in terms of international passenger traffic, cancelled 30 per cent of Sunday's flights as it braced for heavy snow and freezing fog.


In the Netherlands, Amsterdam-Schiphol airport reported dozens of delays and cancellations.

In France, snow fell from Lille in the north to Marseille in the south, though the west of the country and the capital Paris were spared.


Airport bosses came under fire last night after cancelling a third of today's flights at Heathrow because of severe weather – nine hours before a flake of snow had even fallen.


Amid forecasts of six inches of snow and possible freezing fog,  Spanish-owned operator BAA announced yesterday morning that 30 per cent of today's flights from the world's busiest airport – about 200 – would not take off to 'minimise disruption to passengers'.


It means that the flights of up to 18,000 travellers could be cancelled or rescheduled as airlines scramble to adjust their flight plans. The decision was in stark contrast to airports across most of Europe where, despite arctic conditions, flights were due to take off as normal.


Munich saw temperatures plunge to minus 27C on Friday night but the airport expected no disruptions today.


Traffic in the Italian capital ground to a halt as buses struggled to climb icy hills and authorities accustomed to a warm climate fought to cope.


Visitors were stopped from entering the Roman Forum and Palatine Hill, the former home of Rome's ancient emperors, over fears they could slip on ice.


The last substantial snowfalls in Rome were in 1985 and 1986, though there have been other cases of lighter snow since then, including in 2010.