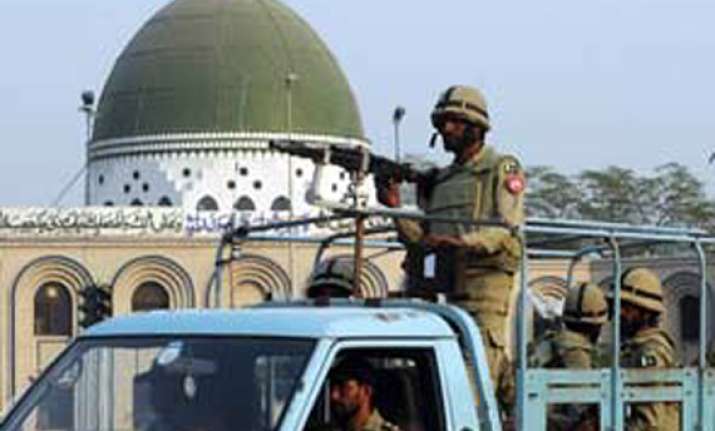 Islamabad, Nov 24 :  Seven persons were killed and 18 injured when a Shia procession was targeted with a roadside bomb in Pakistan's restive northwest today, the latest in a string of attacks against the minority community during the Islamic month of Muharram.
The bomb, which was hidden in a mound of garbage, went off as a procession from an imambargah on the outskirts of Dera Ismail Khan was on its way to the main procession in the
city, witnesses and police officials said.
Seven persons, including four children, were killed by the powerful blast. Two children and a policeman were among the injured, who were taken to a nearby hospital.
Police officials said the bomb contained an estimated 10 kg of explosives and ball bearings. Footage on television showed the walls of several houses had been pitted by the ball
bearings.
Soon after the blast, authorities further beefed up security in Dera Ismail Khan district of Khyber-Pakhtunkhwa province. The army was called out in the district. Officials
said over 4,000 security personnel had been deployed in the area.
The attack occurred despite extensive security arrangements put in place by Interior Minister Rehman Malik,including the suspension of mobile phone services in nearly 50
cities and towns, including Karachi, Lahore and Quetta, and a ban on pillion riding in dozens of places.
In the southwestern city of Quetta, authorities imposed a complete ban on the riding of motorcycles.  
In Islamabad, authorities used helicopters to mount surveillance of Shia processions.
AP adds: On Sunday, Shiites in Pakistan will celebrate Ashoura, which commemorates the seventh century death of Imam Hussein, the Prophet Muhammad's grandson. The Sunni-Shiite schism over Muhammad's rightful heir dates back to that time. 
President Asif Ali Zardari condemned the bombing and reiterated his government's resolve to stop militants. 
"Such nefarious acts cannot deter the people and the government in their fight against the scourge of militancy," he said in a statement. 
Pakistan has deployed thousands of additional police across the country to beef up security, and authorities have suspended mobile phone service in all the major cities for two days to prevent such bombings. 
Officials say Taliban frequently use cellular phones as remote detonators for bomb attacks. 
Pakistani Taliban and other banned Sunni militant groups often target Shiites during the time around Ashoura.