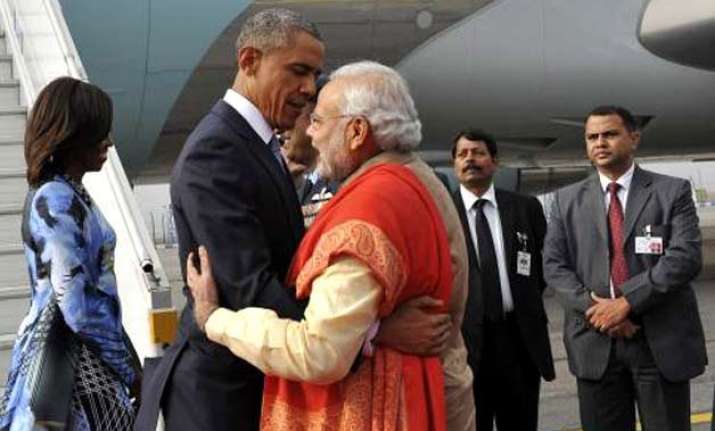 New Delhi: As the Indian media is all abuzz with the chemistry between American President and Indian Prime Minister, the international media is no where behind.
Taking a generally positive view of US President Barack Obama's India visit, the US media has suggested that his personal chemistry with Prime Minister Narendra Modi had opened a new chapter in India-US relations.
The Bonhomie between Modi and Obama garnered world wide attention; leaving some prying eyes from neighboring nations with disdain.
"After years of near misses and unfulfilled promises," Obama and Modi "appear to have set relations between their democracies on a deeper, perhaps even revolutionary, path," the influential New York Times commented.
"Part of the improvement in bilateral relations has to do with the personal chemistry between the two, which by all accounts appears warm and genuine," it said in an editorial titled "A new chapter for America and India."
Obama was the first American President to be invited as the Chief Guest at Republic Day Parade, but he assured that he won't be the last.
His 'Siri Fort' address to the fervent audience across both the nations made his thoughts quite clear! PM Narendra Modi broke the protocol and went ahead to receive his guest & friend and the First Lady at the Palam airport.
As mentioned in the New York Times editorial, China was not happy, dismissing the visit as a "superficial rapprochement." The trick for Obama and Modi will be to stand firm in support of a stable, rules-based order in Asia while not provoking China.
Obama and Modi have raised expectations with their talks of an 'enduring commitment'. The American President second visit to India is a step to build a true partnership which will take sustained efforts over many decades to nourish.
"And maybe, just maybe, India and the US may move a little closer to forming the 'defining partnership' that Obama first promised in 2010," it said.