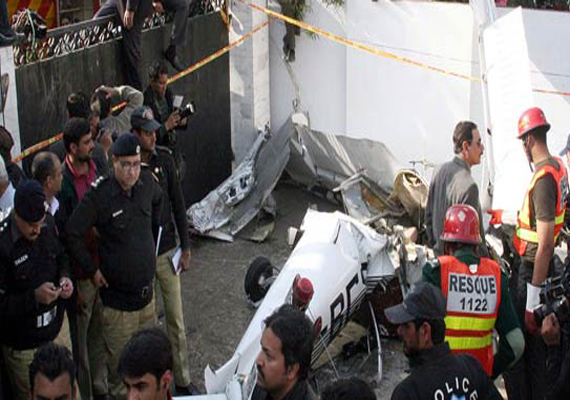 Lahore, Feb 24 : A two-seater light plane on a training flight crashed into the lawn of a house in Model Town here on Thursday, killing a woman pilot and her trainee, Dawn reported.

Witnesses and police said the plane had circled three times before coming down with a bang onto a car porch-cum-lawn of the house. No one on the ground was hurt.

The dead were identified as Captain Anita Qureshi and co-pilot Waqar Asif. Both were in their 20s and hailed from Karachi.

They were associated with Hybrid Aviation, a commercial firm based at the Walton airport.

A Punjab Special Branch team inspected the company's office and quizzed the staff.

Model Town SP (operations) Maroof Safdar Wahla said police were investigating the incident and the crash site had been sealed for forensic examination by Civil Aviation's technical experts from Karachi.

The pilots died on the spot and their bodies were mutilated. Rescue 1122 removed them from the wreckage after prising open the plane.

DIG (operations) Ghulam Mehmood Dogar said police would act after receiving the inquiry report by the CAA team.

Irfan Ali, a servant in a nearby house, said the plane's engine had stopped functioning twice before the crash. It took three rounds in the air for about 30 minutes.

He said the Model Town security and some policemen present at nearby pickets were the first to respond, but before they reached the house, the owner and his wife threw water on the plane to save it from catching fire.

Irfan said Rescue 1122 personnel reached the site after 30 minutes and removed the bodies.

A large number of residents gathered at the scene. A relative of co-pilot Waqar was seen crying at the site.

ASP Imran Qureshi, a first cousin of pilot Anita Qureshi, told Dawn that she was unmarried and opted for aviation field in 2006.

She got flying licence in 2007 and was associated with Hybrid Aviation as a trainer. She was second last among six brothers and sisters.

Mohammad Ashraf, an uncle of co-pilot Waqar, told reporters that his nephew was taking his last hour of flight on Thursday before the completion of 120-hour period of his training.
He said Waqar was to marry his daughter after a few months. Nikah had already been performed.

An investigation official told Dawn that they had found very low level of fuel and the plane's internal condition was pathetic.

Even its cockpit didn't have proper marks for instruments, he added.

He said the plane's engine had apparently flamed out while flying.

This was the second incident in which a light airplane flown from the Walton Airport crashed. Earlier a two-seater sports aircraft crashed while landing at the airport on Sept 29, 2006, leaving the veteran pilot and his friend dead.