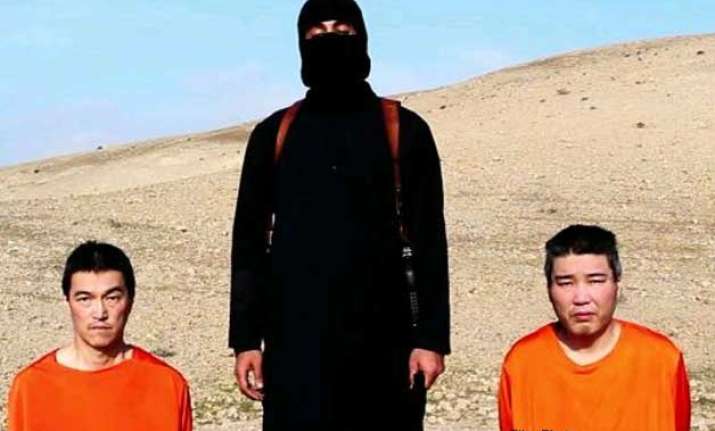 Tokyo: Japanese officials said today they were investigating a new online message purporting to be from the extremist Islamic State group about the two Japanese hostages it holds.
The purported message claimed one hostage has been killed and demanded a prisoner exchange for the other. But the post was deleted quickly, and militants on a website affiliated with the Islamic State group disagreed about the message's authenticity.
The Associated Press could not verify the contents of the message, which varied greatly from previous videos released by the Islamic State group, which now holds a third of both Syria and Iraq.
Japan's Chief Cabinet Secretary Yoshihide Suga said government ministers were holding an emergency meeting about the new message.
Prime Minister Shinzo Abe told reporters as he rushed into his office that the release of the new message was "an outrageous and unforgivable act. We demand their immediate release."
Kyodo News agency reported that the same video has been emailed to the wife of one of the hostages.  The Islamic State group had threatened on Tuesday to behead the men within 72 hours unless it received a USD 200 million ransom.
Japan has scrambled for a way to secure the release of 47-year-old Kenji Goto, a journalist, and Haruna Yukawa, a 42-year-old adventurer fascinated by war. Japanese diplomats had left Syria as the civil war there escalated, adding to the difficulty of contacting the militants holding the hostages.  Abe had a telephone call with Jordanian King Abullah II today, the state-run Petra news agency reported, without elaborating on what they spoke about.
One militant on the Islamic State-affiliated website warned that the new message was fake, while another said that the message was intended only to go to the Japanese journalist's family.
A third militant on the website noted that the video was not issued by al-Furqan, which is one of the media arms of the Islamic State group and has issued past videos involving hostages and beheadings. The message did not bear al-Furqan's logo.