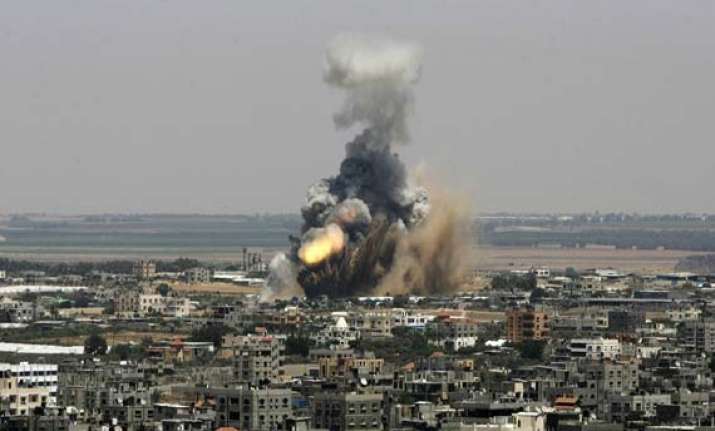 Gaza: Israeli air strikes on Tuesday killed seven people in the Hamas-ruled Gaza Strip, raising the Palestinian toll to 583 in the 15-day conflict that has also left 27 Israeli soldiers dead, even as international efforts to forge a ceasefire continues in Qatar and Egypt.
At least five persons were killed and 70 others injured in the latest Israeli strike on a hospital in Gaza, Palestinian health ministry sources said, adding that several doctors were also wounded in the attack.
A strike on Deir el-Balah in central Gaza today killed five family members, four of them women. One person in nearby Nusseirat and one in Khan Yunis died in the Israeli attacks.
Israel Defence Forces (IDF) said it had targeted a cache of anti-tank missiles in the hospital's "immediate vicinity". Over 30 members of two Palestinian families also died in Israeli strikes overnight, Gazan health officials said.
The IDF today announced that nine soldiers were killed on Monday, raising the number of Israeli military fatalities since the operation commenced to 27. One of the IDF soldiers has been classified as "missing" in Gaza, the army confirmed today.
The IDF Spokesman's Office said three soldiers have been seriously wounded, eight moderately wounded and 19 were lightly wounded during the past 24 hours. Two Israeli civilians have been killed and about a dozen injured.
At least 583 Palestinians, majority of them civilians including women and children, have been killed since Israel launched its Operation Protective Edge on July 8, according to Gaza's health ministry.
Some 3,640 were wounded. UN agencies working in Gaza said that more than 100,000 Gazans have now been displaced and have sought shelter in UNRWA facilities where providing basic necessities "is an impossible challenge".
"Civilian casualties are a tragic inevitability of (Hamas') brutal and systematic exploitation of homes, hospitals and mosques in Gaza," the IDF said in a statement. It said that approximately 131 rockets and mortars were fired at Israel on Monday, of which at least 108 hit Israel and 17 were intercepted.
No casualties were reported from these attacks. Meanwhile, some Arab TV stations last night quoted unnamed Palestinian sources as saying that a humanitarian ceasefire may be announced in Cairo on Tuesday.
The sources claimed that Hamas leader Khaled Mashaal was expected to arrive in Cairo for the announcement.