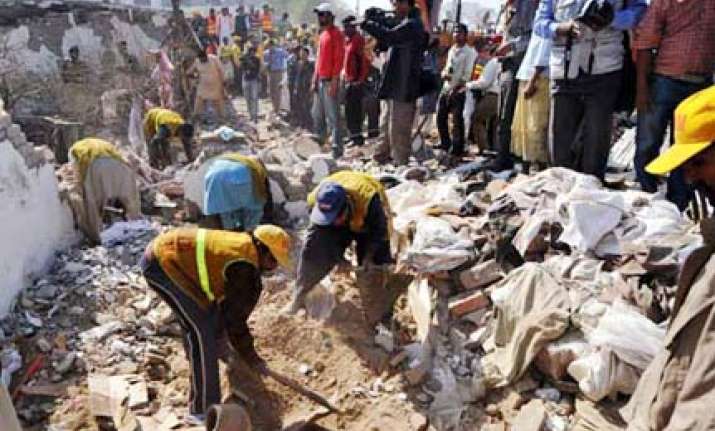 A Pakistani Taliban suicide bomber rammed his explosive-laden car into a building where police interrogated high value terrorist suspects here, killing 13 people and injuring about 80 others.
The blast occurred at a building housing the police unit in Model Town area of Lahore at 8.15 AM and completely destroyed it. Punjab police chief Tariq Salim Dogar described the blast as a vehicle-borne explosion". He said: "I was informed that the terrorists came in a car and it exploded at the gate."  
Breaking a brief lull in terrorist strikes in Pakistan's heartland of Punjab, the bomber used 800 kgs of explosives to carryout the strike, blowing the building's roof sky high.  Witnesses said the explosives-laden car was rammed into the two-storey building, which was reduced to a pile of bricks and mangled metal. 
The blast created a crater about 20 feet wide and eight feet deep.  Officials of a state-run rescue service said two bodies were pulled out of the debris of the building in the afternoon, taking the death toll to 13. 
Two women, a minor girl and two policemen were among the dead. About 80 people were injured and about two dozen were in a critical condition, officials said.  Tehrik-e-Taliban Pakistan spokesman Azam Tariq claimed responsibility for the attack during a phone call to a reporter in North Waziristan. 
Tariq, who called from an undisclosed location, said the Taliban will carry out more suicide bombings and attacks on government installations across the country till US drone attacks and operations against militants are halted. 
Lahore Commissioner Khusro Pervez said officials were carrying out a review to ascertain how the explosives-laden car got past several security check posts in Model Town.  Officials of the bomb disposal squad said up to 800 kg of explosives were used in the attack.  Four persons who were in the building were reported missing and officials said they had found body parts at the site.
DNA tests will be conducted to determine if the body parts were of the suicide attacker or the missing persons, they said.  Sources said some important suspects with links to the Tehrik-e-Taliban Pakistan were being held in the special investigation unit. 
However, there was no official word on these suspects and their status.  The explosion blew out the walls of a nearby seminary and several houses and shattered windows of buildings located with a radius of three kilometres. Footage on television showed smoke billowing over the site as rescue workers with bloodstained clothes dug through the rubble with their hands.  "We were in the process of shifting police offices from residential areas but this attack occurred before we could complete the shifting of this unit," said Punjab police chief Dogar. 
Interior Minister Rehman Malik told reporters in Islamabad that those responsible for such attacks are "hired assassins" and "not Muslims". He said militants will carry out such attacks in future too as they are frustrated by their defeat.  Last year, terrorists had struck the special investigation unit s office in another part of Model Town. Following that attack, it was shifted to its current location. There are at least eight offices of various intelligence agencies in the area.  Terrorists have also targeted offices of the Federal Investigation Agency and Inter-Services Intelligence in Lahore over the past year, killing dozens of people. PTI