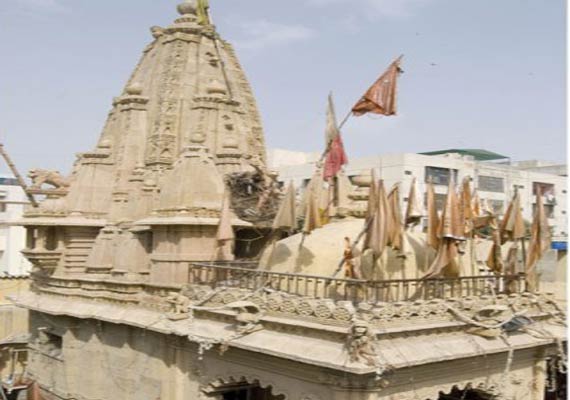 Islamabad, Feb 20 : One of the oldest Hindu temples in the southern Pakistani city of Karachi is being renovated after a legal battle to evict encroachers and a long campaign to raise funds for its restoration.

The 1,500-year-old Shri Panchmukhi Hanuman Mandir, located at Soldier Bazaar in Karachi, is getting a facelift after its management battled land grabbers to regain partial control of its property.

Though the renovation efforts suffered a setback some years ago, its management is adamant that the work will be completed despite encroachments on the temple's plot, intimidation and threats by land grabbers and a lack of funds, The Express Tribune newspaper reported today. 

"The temple was supposed to be renovated within two years. But a shortage of funds and the cases we have been fighting for the ownership of our land have slowed down the process. Yet we won't give up," said Shri Ram Nath Maharaj, the temple's caretaker.

The temple holds special significance for Hindus as it is the only shrine in the world which has a "natural statue" of Hanuman that is not man-made, Maharaj said. 
The eight-foot blue and white statue was discovered at the site of the temple long ago. The room in which the statue is kept will not be touched during the renovation. 
A free 'langar khana' or kitchen and a praying area are currently being built.

To preserve the look of the temple, its original yellow stones are being used to rebuild the arched walls. 
"We believe in preserving our temple. We had to renovate because it was in ruins, with parts of the roof caving in," Maharaj said.