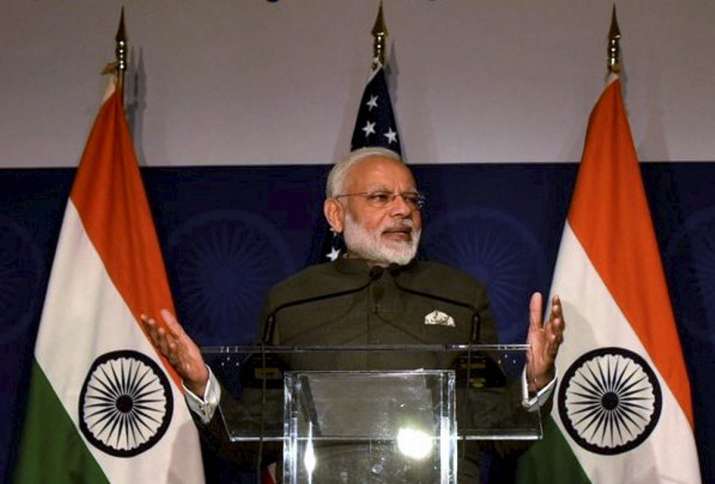 Prime Minister Narendra Modi, on the first day of his two-day US visit, addressed the Indian diaspora in Washington DC's suburb of Virginia on Sunday. 
From highlighting the achievements of his government, targeting Pakistan over terrorism to praising the growth of Indian economy, here are the top statements delivered by PM Modi in his address.  
1. Your heart always asks when would our country become like this (the US)... I assure you that this will happen in your lifetime.
2. The reasons governments have been defeated in India are things like corruption and cheating. People of India do not like corruption. There has not been a single stain of corruption on my government in last 3 years.
3. Today, 125 crore people from Kashmir to Kanyakumari have resolved to do something for their country. With such a resolve, the country is developing in a pace never seen before.
4. When India did surgical strikes the world experienced our power and realized that India practices restrain but can show power when needed. No country questioned India's decision to conduct surgical strikes against terrorism. 
5. when India was raising the issue of terrorism, many nations were calling it a law and order problem. However, terrorists have explained terrorism to them, so we don't have to. Today, the world is troubled by terrorism. This terrorism is an enemy of mankind. 
6. When India talked of terrorism 20 years back, many in the world said its a law & order problem and didn't understand it. Now terrorists have explained terrorism to them so we don't have to.
7. When I think of a developed India, I think of a healthy India, particularly the good health of the women and children of our nation.
8. My address at Madison Square has became an introduction of myself. Whenever I meet foreign leaders, they talk about it.
9. I have travelled across USA before I became a CM or PM. And after taking over as PM, the warmth the Indian community gave is memorable.
10. It is now well-known in India- anyone in trouble tweets to Sushmaji, she quickly replies and the government takes prompt action.