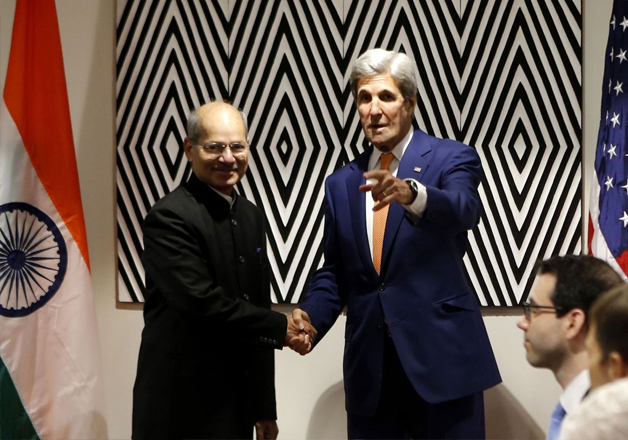 Ministry of Environment and Forests on Friday informed that India and the US reached a consensus over bringing down the consumption of hydrofluorocarbons (HFCs) used in air-conditioners and refrigerators.
"In the original proposal we have no freeze year (for HFCs) but this morning we clarified that we can have freeze at 2030," India's lead negotiator Manoj Kumar Singh, Joint Secretary in the Ministry, said.
He said in the second round of talks between Indian Environment Minister Anil Madhav Dave and US Secretary of State John Kerry, the freezing year was advanced to 2028 with a condition that there would be a review of technology somewhere around 2023 or 2024.
"If India finds that the refrigeration sector is growing at much faster rate and it cannot accommodate within the available refrigerant, then India will free to go to 2030 as freeze year," he said.
Singh said the review would be done by the Technology and Economic Assessment Panel under the Montreal Protocol.
"But it will be mutually agreed upon by India and other parties. Without India, no one can unilaterally decide that what is the growth rate which will trigger that mechanism," he said.
For smooth transition to developing new technologies indigenously, there is a huge financial burden on India -- both for the industry and the consumers.
John Kerry said that the adoption of an ambitious hydrofluorocarbons phase down amendment could avoid up to half a degree Celsius of warming by the end of this century and such actions would send a powerful signal to the world markets.
"The US is participating in these talks in Kigali on the Montreal Protocol in order to work toward agreement and adoption of an ambitious HFCs phase down amendment in the next few hours," Kerry said in his 30-minute address at the 28th Montreal Protocol meeting.
Making a passionate appeal, he said the HFC amendment would build upon "our success last year in Paris (Agreement) and is one of the most consequential and cost-effective actions the global community can take this year to combat climate change".
HFCs are used mostly in refrigeration and air-conditioning and are also potent greenhouse gases.
Delegates from nearly 200 countries are attending the 28th meeting of the Parties to the 1989 Montreal Protocol on Substances that Deplete the Ozone Layer.
In India, it will cost 12 billion euros (Rs 90,000 crore) to shift from HFCs to the greener gases between 2015 and 2050, the New Delhi-based think-tank Council on Energy, Environment and Water said on September 27.
Experts say though HFCs do not harm the ozone layer, they have a high global warming potential. Their elimination will ultimately help avoiding an up to 0.5 degree Celsius rise in global temperature by the end of the century and will significantly contribute towards the global goal of staying well below two degrees.
The Montreal Protocol was designed to protect the ozone layer by reducing the production and consumption of ozone-depleting substances. It was agreed to on September 16, 1987, and entered into force on January 1, 1989. Since then it has banned the use of several ozone-depleting substances, including chlorofluorocarbons, which were replaced by HFCs.
With IANS Inputs