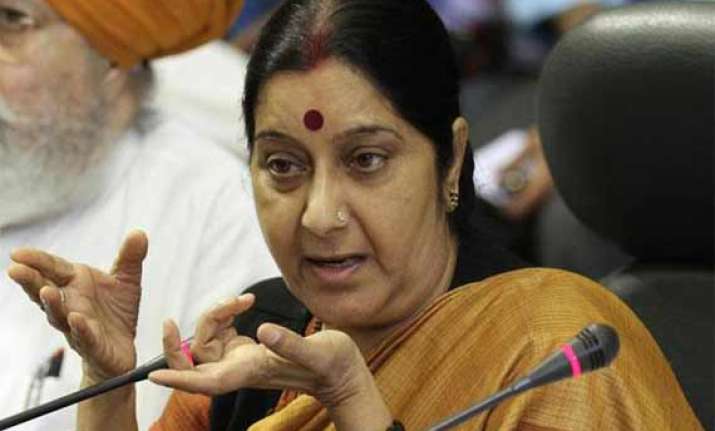 Kathmandu: Seeking to take bilateral ties to a "new level", India and Nepal today held the first meeting of the Joint Commission after a gap of 23 years during which both sides decided to enhance cooperation in diverse areas including defence, security, trade and investment, water resources and border issues.
The Joint Commission Meeting (JCM) was co-chaired by External Affairs Minister Sushma Swaraj and her Nepalese counterpart Mahendra Bahadur Pandey which largely agreed to further "reinvigorate" the relationship by stepping up engagement in new areas.
The meeting decided on setting up an Eminent Persons Group to identify new areas of cooperation and suggest measures to help both the countries seize all possible opportunities. Both the countries have agreed to the terms of reference for setting up of the group, government sources said.  The JCM also specifically deliberated on issues relating to defence and security and agreed to expand cooperation. The overall sense of the deliberation was that "security of both the countries was intertwined".
Foreign Secretary Sujatha Singh and a number of top officials from Ministry of Road Transport and Highways, Ministry of Power, Ministry of Commerce, Ministry of Water Resources and Ministry of Culture were among those who represented the Indian delegation.
The discussions in JCM were held in five clusters - political, security and border issues; economic co-operation and infrastructure; trade and transit; power and water resources; and culture, education and media.  Swaraj co-chaired the first cluster deliberation on political, security and border issues.
Before the Joint Commission Meeting, Swaraj had a separate meeting with Nepal's Foreign Minister Pandey. At the outset, Pandey warmly greeted Swaraj and hoped that her visit will help in further cementing ties with the two countries.  Immediately after her arrival here yesterday, Swaraj had said Nepal stands high on the priority list of the Narendra Modi-led government and the testimony to it is her visit here within two months of assuming office of External Affairs Minister.
"The meeting for which I have come, you will be surprised to know, is taking place after 23 years. It reflects that for the new government, Nepal stands high on priority list.  "I have come here with lot of hopes and expectations and I think through the visit, India-Nepal relations will be further strengthened," she said yesterday.
Swaraj's trip is also to prepare the ground for a two-day official visit by Prime Minister Narendra Modi next month.  Modi will arrive here on August 3, the first bilateral visit by an Indian premier to Nepal in over 17 years.  In 1997, then Prime Minister I K Gujral had visited Nepal.  
Even though the JCM took place after a long period, India has 25 bilateral mechanisms with Nepal where both countries have been interacting on a regular basis.  At present the annual bilateral trade is approximately USD 4.7 billion and India accounts for 47 per cent of foreign direct investment in Nepal.
As close neighbours, India and Nepal share a unique relationship of friendship and cooperation characterised by open borders and deep-rooted people-to-people contacts. There are six million Nepalese workers in India. Annually three thousand Nepalese are provided scholarships by India.  
There has been a long tradition of free movement of people across the borders. Nepal shares a border of over 1,850 kms to the south with five Indian states - Sikkim, West Bengal, Bihar, Uttar Pradesh and Uttarakhand.  External Affairs Minister in the previous UPA government S M Krishna had visited Nepal in January 2010 and again in April 2011. Then Finance Minister Pranab Mukherjee had visited Nepal in November 2011.
The India-Nepal Treaty of Peace and Friendship of 1950 is the bedrock of the special relations that exist between India and Nepal.
Under the provisions of the treaty, Nepalese citizen have enjoyed unparalleled advantages in India, availing the facilities and opportunities on par with Indian citizens.  The treaty enabled Nepal to overcome the disadvantages of being a landlocked country. Overtime, many regimes in Nepal have raised the issue of revision of the treaty.
India has maintained that it is willing to examine all bilateral arrangements with a view to further strengthening relations.  India contributes to the development efforts of Nepal by undertaking various projects in the areas of infrastructure, health, rural and community development and education.  
India continues to be Nepal's largest trade partner, source of foreign investment and tourist arrivals. Bilateral trade between India and Nepal has increased substantially since the signing of the Trade Treaty in 1996 and received further impetus after the signing of the revised trade treaty in 2009 which has provisions that allow Nepal greater access to the Indian market.
There is vast potential for cooperation between India and Nepal in the field of water resources. Nepal has 43,000 MWs hydropower potential. Both countries have recognised that they can enhance cooperation to exploit the hydropower potential.