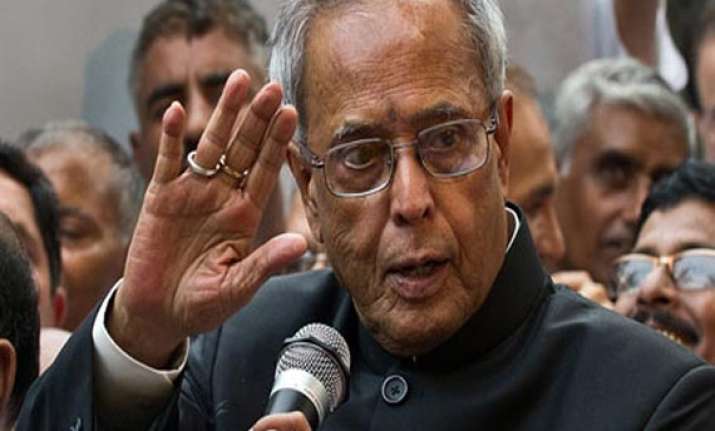 Jhoteshwar, June 7: Visual impairment has a very debilitating effect on the family and the economic condition of those suffering from it, President Pranab Mukherjee on Friday said while speaking at the inaugural ceremony of an eye hospital started by the Swami Swaroopanand Charitable Trust in Narsinghpur district. He called for use of latest technology to combat it and also said that the treatment should be made affordable for all.
"Public places, offices, transport and parks should be designed so that they are friendly to those suffering from visual or other impairments," he said.
"Of the world's 3.9 crore blind, one fifth live in India," Mr. Mukherjee said.
"There is a strong link between visual impairment and the developing and the less developed countries. To gather resources for its cure and the denial of opportunities because of it leads to economic burden. In our society we should pay more attention to the needs of the visually impaired," Mr. Mukherjeee said.
He further said that though steps have been taken by the government to combat visual impairment, more needed to be done and the support of the non-governmental sector was important.
Specialisation
"There is a need to focus on specialisation in eye treatment and it should be made easy and affordable for all. The use of technology is needed so that facilities can reach the needy," Mr. Mukherjee said.
Indian eye specialists are very capable, but they should be aware of the latest developments in this field, the President said.
He said that visits by doctors to India and abroad could prove helpful in this regard.
Information Technology
"Information Technology should be extensively used in treatment. Telemedicine projects have linked super speciality hospitals with remote areas. This has helped take the services of specialists to needy and backwards areas. Technology should be used to the maximum extent in the health services," he said.
Mr. Mukherjee also said that special attention should be paid to the children and youth when it comes to eyecare.