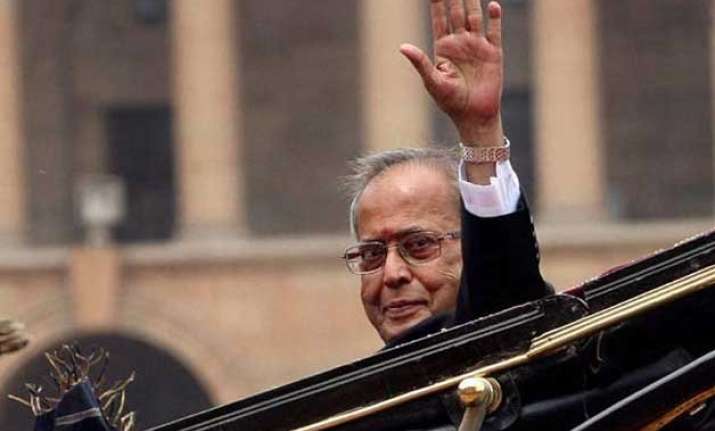 New Delhi: Following the growing political instability in Arunachal Pradesh, President Pranab Mukherjee today gave his assent to the Union Cabinet's recommendation of imposing central rule in the state and keeping the legislative assembly in suspended animation.
The President signed the decree two days after the unscheduled meeting on Sunday, held by the cabinet, to endorse that the north-eastern border state should be brought under central rule, reveals official sources.
"President of India has signed a proclamation under article 356(1) of the constitution, imposing President's Rule in relation to the state of Arunachal Pradesh and keeping the legislative assembly of the State in suspended animation with effect from January 26," said a home ministry statement.
"Taking cognisance of the constitutional breakdown that has taken place in the state as reported by the governor of Arunachal Pradesh, the union cabinet in its meeting held on January 24, had recommended to the President to issue such proclamation," it added.
Minister of State for Home Kiran Rijiju had said the cabinet was forced to take the decision because of a Constitutional breakdown as six months had lapsed between two sessions of the state Assembly.
Yesterday, Mukherjee had called Home Minister Rajnath Singh and put some queries to him on the need for the imposition of President's rule even as Congress, the ruling party in the state, met him and opposed the cabinet decision.
The party urged the President not to give assent to the cabinet decision saying the issue was before the Supreme Court which has decided to hear the Congress petition tomorrow.
Other major opposition parties had also attacked the Centre's decision saying it amounted to "murder" of democracy while the BJP said the crisis was of Congress' making because it had lost numbers in the Assembly.
Arunachal Pradesh has been rocked by a political crisis since December 16 last year when 21 rebel Congress MLAs joined hands with 11 of BJP and two independents to 'impeach' Assembly Speaker Nabam Rebia at a makeshift venue, in a move branded as "illegal and unconstitutional" by the Speaker.
Meanwhile, the Supreme Court decided to hear on January 27 the Congress plea challenging the Cabinet decision.
The petition seeking urgent hearing was mentioned before Chief Justice T S Thakur, at his residence, who directed the matter to be listed for hearing on Wednesday.
(With PTI inputs)