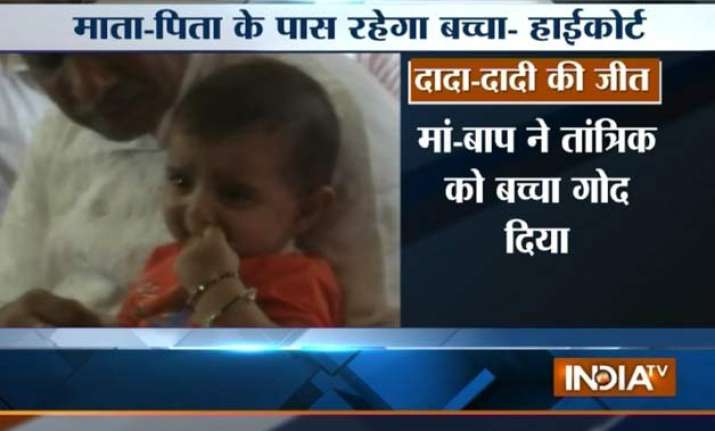 Jaipur: Jaipur High Court today opened up on a weekend to hear a peculiar case where grandparents were fighting to keep a child in the family but the parents were adamant on giving up the 5-month old baby to a tantric.
The court ruled out that the baby will stay in the family under parents' custody and his grandfathers can visit him whenever they wish.
The single bench of justice Bela M Trivedi ruled that a child could need a family which the baba does not have.
Grandfather Rajendra Prasad Purohit in his petition to the court said his son and daughter-in-law had given his grandson for adoption to a tantric named Ram Dayal Maharaj, alias Chota Sarkar at Khandwa in Madhya Pradesh.
He expressed fear for the life of the child and also expressed his apprehension that the child could be abused at guru's place as this so-called religious guru is also a tantric.
The child's maternal grandparents were also against the move and wanted him to stay in the family.
Pawan Purohit, the father, does not agree with his parents and said he has faith in the baba and that his son would be brought up very well and will receive good education. His wife Puja, who claimed she has a doctorate, also agreed with him.
Yesterday, the court had asked the parents to present the child in the court for a weekend hearing while expressing shock and surprise at their action.