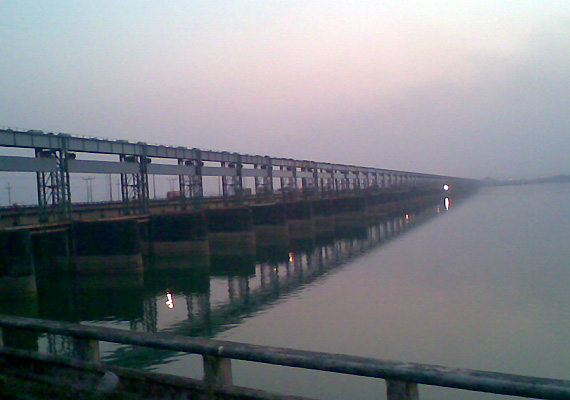 Kolkata, Feb 16: The excess outflow of water from Farakka barrage through two damaged sulice gates has reduced its water level by three metres and is posing erosion threat at Jangipur area of Murshidabad district.

"The water level at the barrage, which should remain 21.90 metre has come down by 3 m as gate numbers 13 and 16 have broken down," hydrologist Kalyan Rudra told newsmen after meeting Chief Secretary Samar Ghosh to review the situation owing to the outflow.

Chief Minister Mamata Banerjee had yesterday said she had written to Prime Minister Manmohan Singh on the matter and that the excess water was flowing into Bangladesh.

According to official sources, Bangladesh was to get 35,000 cusecs during the dry season as per the water agreement between the two countries but was getting 82,801 cusecs due to the drainage of water from the barrage.

Rudra, who heads the expert committee set up by the state government to study Teesta water-sharing issue, said the excess outflow was causing scracity of water at NTPC's Farakka plant as the feeder canals were also running out of water.

Owing to this, vessels travelling upstream from Kolkata cannot move beyond Nabadwip in Nadia district, he said adding the loss of water could also increase salinity in drinking water in Kolkata and its surrounding areas.

The barrage, commissioned in 1975, has 109 sluice gates, Rudra said and alleged their annual maintainance was not carried out properly.