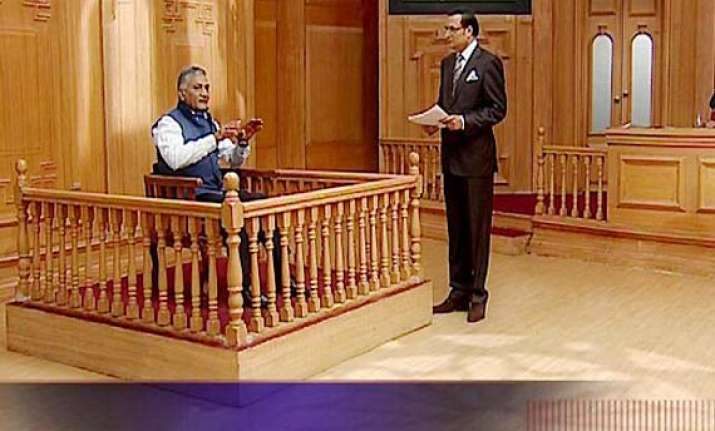 New Delhi, Feb 16: Former army chief retd. Gen V K Singh has said that the Indian army "will never carry out a coup, it will only defend the nation".
Replying to questions from
Rajat Sharma
in India TV's show Aap Ki Adalat, the former general blamed some bureaucrats and some army officers for planting, what he called, wrong information in the media about the movement of two units of the Army near Delhi.  
"Today, I can reveal that some bureaucrats and some army officers had planted this baseless news. These two units were part of routine mobilization, and if you remember, there were some developments in Maldives 6-7 days later, these units were meant to go there", said the former COAS.
Asked what could be the motive behind planting such news, the retired general said, "it's very clear. A man (Gen Singh) stands up against the government, and you want to defame him. You want to coerce him. That could be the only motive".
The former COAS also alleged that a former Principal Secretary to the Prime Minister was given a plot by the owners in the Tatra truck scam, and the son of a senior Planning Commission appointee stayed in their guest house for one and a half years.