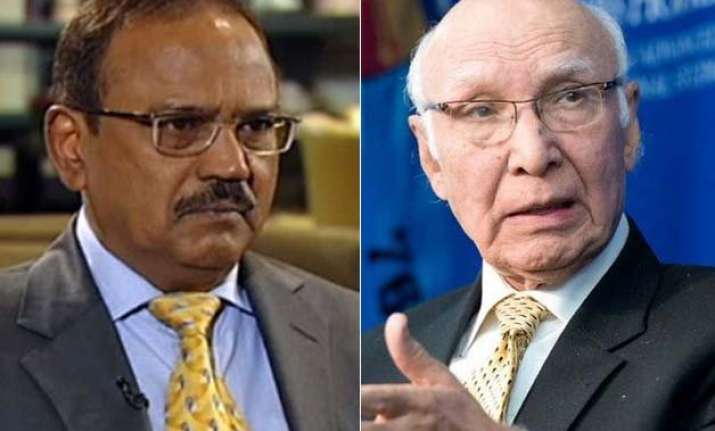 New Delhi: Pakistan today made it clear that it will not accept any terms and conditions put forward by India to go ahead with the NSA-level talks.
"We will not take dictation from India. The (Indo-Pak) talks cannot be based on conditional diplomacy," Pakistan government sources told PTI.
Pakistan NSA Sartaz Aziz's scheduled visit to Delhi on August 23 for talks with his Indian counterpart Ajit Doval  has run into rough weather after the two sides hardened their stand on Aziz's proposed meeting  with Kashmiri separatist leaders.
Pakistan's reaction came in the wake of India asking Pakistan that it should not go ahead with the meeting of its NSA Sartaz Aziz with Hurriyat representatives here when he comes to hold talks with Doval, saying it will not be "appropriate".
"India has advised Pakistan yesterday that it would not be appropriate for Sartaz Aziz to meet with Hurriyat representatives in India," spokesperson in the External Affairs Ministry Vikas Swarup said in a tweet.
The Pakistan High Commission has invited Kashmiri separatists to meet Aziz when he travels to New Delhi for talks.
Meanwhile, PDP chief spokesman Mehboob Beg said that it is for Pakistan to decide whether to hold talks with Kashmiri separatists or not.
"It is for the Pakistan to decide whether to meet separatists or not. Such meetings (between separatists and Pakistani officials) have been happening in the past. These meetings happened during Atal Bihari Vajpayee's tenure and then during Manmohan Singh's time as well," Beg told PTI.