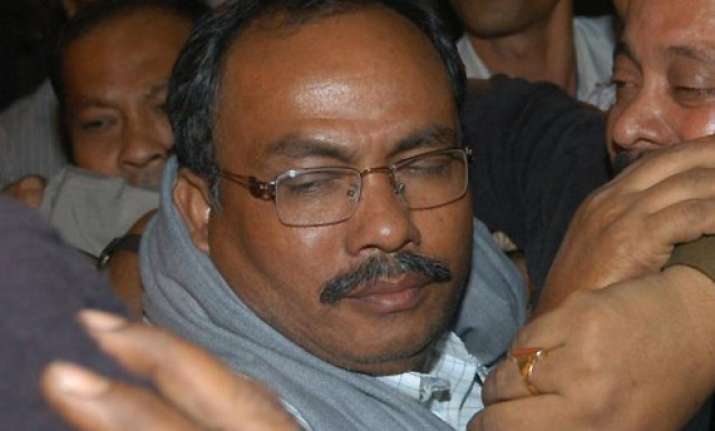 New Delhi, Oct 25: The Centre today held talks with the top leadership of the banned ULFA and discussed various aspects of its 'charter of demands' which sought amendment in the Constitution to find a lasting solution to the three-decade-old insurgency problem in Assam.

Led by its 'chairman' Arabinda Rajkhowa, the ULFA leaders held a 90-minute closed door meeting with Union Home Secretary R K Singh and other officials and discussed their demands "point-by-point" and resolved to carry forward the dialogue process to find an "amicable solution".

"It was a very positive meeting. We have had a point-point-by discussion on our charter of demands. We hope that the positive attitude of the Central government will continue and would help in finding an amicable solution to our demands," Rajkhowa told reporters after the meeting.

Asked whether the ULFA cadres would surrender their arms as demanded by the government, its 'foreign secretary' Sashadhar Choudhury said, "We have not attended the peace talks with our arms. We are also not going to tell you where our cadres have kept the arms".

On the government's proposal to keep the cadres in designated camps called 'nabanirman kendras', Choudhury said the camps were not ready yet.

According to an estimate of the government, ULFA has around 600 active cadres.

The meeting discussed various aspects of the group's 'charter of demands' which sought amendment in the Constitution for finding "meaningful" ways to protect the rights and identity of the indigenous people of Assam.

Observances of ground rules, signed by both sides, surrender of arms and ammunition and total halt of operations by security forces against the pro-talk faction were some of the other issues which were discussed in the dialogue, official sources said.

The meeting, which was also attended by the representatives of the Assam government, also deliberated in detail on various aspects of the ground rules of the Suspension of Operations.

In its 'charter of demands', the ULFA also demanded change of rules and law and said a solution to their demands was not possible under the provisions of the existing Constitution.

Among other demands of the group include discussion on grounds for "ULFA's struggle and their genuineness", status report on missing ULFA leaders and cadres—numbering around 50 -- including those missing since 2005 when the Bhutan government conducted offensives and other socio-economic issues.

The ULFA has entered into formal peace talks with the government after a 32-year-old violent insurgency movement. On September 3, the group had signed the Suspension of Operation pact with the government.

Rajkhowa led an eight-member team during introductory talks with Prime Minister Manmohan Singh and Home Minister P Chidambaram in February.

ULFA's elusive 'commander-in-chief' Paresh Baruah is still opposed to any dialogue with the government till 'sovereignty' issue is not on the table.