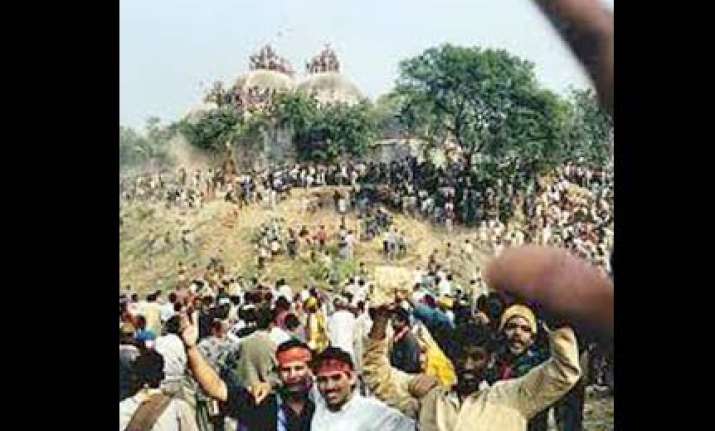 NEW DELHI: With barely weeks to go for the Allahabad high court to announce a verdict on the Ayodhya title suit, the Centre and Uttar Pradesh governments are gearing up to face the fallout of the verdict.
The Centre does not want to be caught napping as during the earlier stages of the incendiary Ayodhya agitation, while  the Mayawati government in UP is calculating the fallout that the verdict will have on  forthcoming polls in the state..
Prime Minister Manmohan Singh on Tuesday met with his senior  cabinet colleagues on how the post-verdict situation should be handled.
The Allahabad High Court verdict in the title suit, which will decide the ownership of the disputed site of Ramjanmabhoomi-Babri Masjid, may come any day before September 30 when one of the three judges on the bench is to retire. UPA realizes the court order can create a tricky law and order situation irrespective of which way it goes.
Uttar Pradesh chief minister Mayawati has already asked the Centre to provide 458 companies (over 50,000 personnel) of paramilitary forces, underlining the seriousness of the issue. The PM discussed the possible scenarios and strategies with finance minister Pranab Mukherjee, home minister P Chidambaram and defence minister A K Antony.
As the Ayodhya dispute's appeal is not limited to UP but has a pan-Indian resonance across religious divide, the strategy to tackle the post-verdict scenario will be a key agenda item in the three-day conference of police chiefs called by the Intelligence Bureau from Wednesday.
On his part, BJP leader  L K Advani, who spearheaded the party's Ayodhya campaign, is learnt to have instructed the party to ensure that there is no "overreaction" to the judgment, whichever way it goes.
But the Centre is in no mood to take chances. Amid reports that right-wing organizations have begun mass mobilisation for D-Day, the Centre is worrying that a communal polarization could be exploited by terrorists eager to look for an opportunity to target India.
Big crowds, inflammatory speeches and conspiracy theories by the losing camp can be a volatile mix for areas with mixed population. VHP's 'karseva' on December 6, 1992, which culminated in the demolition of the disputed structure, is still fresh in memory.
In its letter to Union home ministry, the UP government said 458 companies of paramilitary forces were required to man 19 hypersensitive districts and 25 sensitive districts.
While MHA has found UP's demand for 458 companies "inflated", arguing it was enough to even hold elections in big states, it is ready to cooperate with  Lucknow in view of the sensitivity of the matter. The Centre had sent 375 companies of CPMFs to UP in 1992. The state has already chalked out a special plan to tackle any exigency. Eight ADGs and five IGs have been given the charge of additional 16 ranges and a DG has been nominated as special observer.