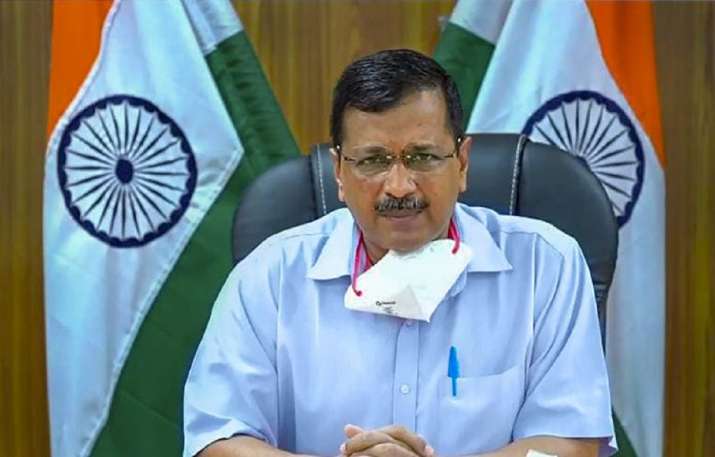 Chief Minister Arvind Kejriwal on Sunday said around 25,500 new COVID-19 cases have been reported in Delhi and the positivity rate has increased to nearly 30 per cent in the last 24 hours. He also said that the Delhi government has sought the Centre's help in ensuring adequate beds and supply of oxygen for COVID-19 patients.
Less than 100 ICU beds are vacant in Delhi hospitals, and the situation is worsening every moment, Kejriwal said, adding that he spoke to Union Home Minister Amit Shah this morning and stressed the need for making more beds available.
"We are constantly in touch with the Centre and getting help from it," he said.
The chief minister said due to the fast pace of increasing COVID-19 infections, hospital beds and oxygen for patients are depleting fast in the city.
The Centre should reserve at least 7,000 of 10,000 beds in hospitals run by it in Delhi as COVID beds and ensure immediate supply of oxygen, he said.
The Delhi government in the next 2-3 days will come up with 6,000 beds at Yamuna Sports Complex, Radha Swami Satsang Beas premises and schools. It is also arranging high flow oxygen beds for the patients, Kejriwal added.
Amid escalating coronavirus cases, Chief Minister Arvind Kejriwal on Saturday had said the pandemic situation in the city has become "very serious and worrisome", with oxygen stock, and Remdesivir and Tocilizumab drugs for patients in short supply.
Kejriwal seeks help from Amit Shah
Kejriwal on Sunday said that he spoke to Union Home Minister Amit Shah on phone and told him about the critical situation of rising COVID-19 cases in the national capital. He said, "I have spoken to Union Home Minister Amit Shah today on phone and requested for supply of Oxygen, beds and other facilities required at this critical situation."
Chief Minister told the press that very few ICU beds are available in Delhi Government hospitals.
"We need beds and oxygen supply immediately. Delhi Govt will provide 6,000 beds in next 3 days. Many schools and sports complexes and other Government buildings will be converted into Covid care centres," Kejriwal added.
Kejriwal said that he has requested the Centre to provide more ICU beds in Government-run hospitals to cope up with the increasing number of patients.
Delhi facing shortage of medical oxygen: Sisodia
Meanwhile, Deputy Chief Minister Manish Sisodia on Sunday said Delhi has been facing a shortage of medical oxygen and the city government has requested the Centre to immediately increase its supply to the national capital. 
"The quota of oxygen allocated to Delhi is turning out to be very less due to the increased consumption which is much more than the average," Sisodia, who is also the nodal minister for COVID-19 management in Delhi, tweeted. 
He said several hospitals have informed that their stock of medical oxygen will be over soon.
"The Delhi government has demanded that the Centre increase the city's quota of oxygen immediately," Sisodia said in another tweet in Hindi.
COVID-19 situation in Delhi
Delhi on Saturday recorded the biggest jump in its daily COVID-19 tally with 24,375 fresh cases, and 167 people died due to the disease in the last 24 hours, while the positivity rate also shot up to 24.56 per cent -- meaning every fourth sample being tested in the city is turning out to be positive.
A day ago, 19,486 COVID-19 cases and 141 related deaths were reported in the city.
Meanwhile, more deaths from COVID-19 took place on Friday according to municipal records vis-a-vis the figures reported by the city government, North Delhi Mayor Jai Prakash claimed on Saturday.
According to the official data shared by the health department, 141 fatalities were reported on April 16.
The North Delhi mayor, however, claimed that the "death count from COVID-19 was 193 on Friday".
"According to cremations and burials performed of COVID-19 victims, the number of fatalities stands at 193," he claimed.
In civic areas across Delhi, 300 platforms have been reserved for COVID victims, he said.