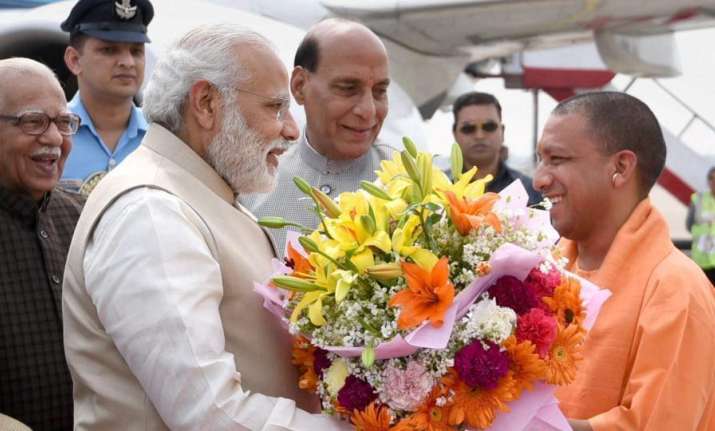 Prime Minister Narendra Modi on Friday showered praise on Uttar Pradesh Chief Minister Yogi Adityanath asserting that he has defeated many with his Twitter skills. 
PM Modi, in an apparent reference to the recent heated exchanges between Karnataka CM and Yogi Adityanath on Twitter, jeered Siddaramaiah saying "Yogi Ji is no less than anyone. He is playing the game of twitter with people in various states and has defeated many too".
"Yogi Ji bhi kam khiladi nahin hain. Kayi rajyon mein bahut logon ke saath hamare Yogi Ji twitter-twitter ka khel khel rahe hain. Aur twitter ke khel mein bhi acche acche khiladiyon ko unhone paraast karke rakh diya hai (Yogi ji is no less than anyone. He has been indulging in Twitter game with many in several states. And he has defeated many of them there also)," PM Narendra Modi said.
Locked in a bitter war of words, the two CMs were seen trading barbs against each other as Yogi Adityanath arrived in Karnataka to take part in the 'Nava Karnataka Parivartan Yatre' rally organised by the Bharatiya Janata Party's Karnataka unit on Sunday, as part of the party's ongoing state-wide 75-day campaign to "expose misdeeds" of the Siddaramaiah government.
On the pretext of welcoming the UP CM, Siddaramaiah tweeted that there is a lot Adityanath can learn from Karnataka to address the reported starvation deaths in his state.
"I welcome UP CM Yogi Adityanath to our state. There is a lot you can learn from us Sir. When you are here please visit an Indira Canteen & a ration shop. It will help you address the starvation deaths sometimes reported from your state. #YogiInBengaluru," Siddaramaiah tweeted.
Thanking the Karnataka CM for the welcome, Yogi struck back on Twitter stating "I heard number of farmers committing suicide in Karnataka was highest in your regime, not to mention the numerous deaths and transfer of honest officers". 
"As UP CM I am working to undo the misery and lawlessness unleashed by your allies," Adityanath added.
This war of words between the two comes as Karnataka heads to polls later this year. While the saffron party has already begun aggressive campaigning aimed at making a comeback riding on Prime Minister Narendra Modi's development agenda, Siddaramaiah will face a tough test this time around.