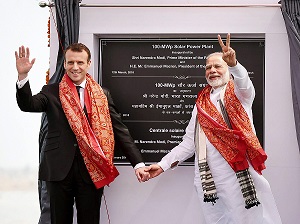 French President Emanuel Macron's four-day India visit came to an end on Monday with his boat ride with Prime Minister Narendra Modi on the flower-decked double-decker vessel. From inking 14 crucial agreements to inaugurating the biggest solar power plant of Uttar Pradesh, Macron and Modi are headed to a closer understanding between the two nations. Macron had arrived in India on March 9. He also participated in an interaction with students at a Town Hall. He alongwith his wife also visited Taj Mahal in Agra.
Here are the key highlights:
India, France inked 14 agreements
In a major expansion of strategic ties, India and France inked 14 pacts in key areas of defence, security, nuclear energy and protection of classified information besides resolving to deepen cooperation in the Indo-Pacific region and step up joint efforts to contain terrorism. 
The agreements were signed after extensive talks between Prime Minister Narendra Modi and French President Emmanuel Macron, including on the changing security dynamics in the Indian Ocean and Pacific. 
Macron asserted that the sea lanes cannot be places for hegemonic power play, in a clear reference to China. 
The pacts included reciprocal logistic support between the armed forces of the two countries and another on protection of classified or protected information, an agreement that comes in the backdrop of the Indian government refusing to divulge details of the multi-billion dollar Indo-French Rafale fighter jet deal. 
The agreement on protection of classified information defines the common security regulations applicable to any exchange of classified and protected information. 
Another pact provides for a way forward for the implementation of the Jaitapur nuclear power project. 
The two countries also inked pacts for cooperation in other areas, including railways, environment, solar energy, maritime awareness and checking trafficking of narcotic drugs and psychotropic substances. 
Townhall interaction with students
French President Emmanuel Macron emphasised on the need for more pacts on environment at the global level that could empower people in having a say in battling climate change. He also stressed on higher investments by the governments to deal with climate change.
Referring to the Paris Framework Agreement on Climate Change, Macron said despite the US decision to leave the pact, many countries have decided to stick by it. 
Responding to a question on the French government's stand on artificial intelligence (AI), Macron said it was necessary to invest heavily in the field to create an alternative as it currently dominated by the US and China.
Elaborating on the issue, he said in the US, the AI fight is led by private players---Google, Amazon, Facebook, Apple and others. 
Also read | France best partner for India, says President Emmanuel Macron
In a nearly hour-long interaction, Macron was asked questions ranging from lighter queries like handling mud-slinging in public life to a more serious ones related to climate change and security of women. 
Dressed in white shirt, black trouser with a black tie, Macron obliged students seeking selfies with him.
International Solar Alliance conference
Macron said USD 1 trillion will be needed to achieve one terawatt (TW) of solar power capacity by 2030.
 
Speaking alongside Prime Minister Narendra Modi at the founding conference of the International Solar Alliance (ISA), he said there are financing and regulation hurdles for achieving the target which need to be cleared by government, private sector and civil society coming together. 
The French president said three primary things need to be done. Firstly, identify solar energy potential in each country, their projects and financing requirement. Secondly, mobilise available finance and thirdly to provide a favourable framework. 
ISA, he said, will bring member nations financing as well as share expertise between them. 
On financing, he said, the French Development Agency will allocate 700 million euros in additional spending to its commitment to solar energy by 2022, taking the total commitment to 1 billion euros. 
Lauding India for showing the world the way in scaling up solar power generation capacity, he said, renewable capacity has within two years gone up from 39 gigawatt to 63 GW, while that of solar energy has soared by 140 per cent. 
Taj Mahal visit
French President also visited the Taj Mahal in Agra, during his visit. Archaeological Survey of India (ASI) officials said Macron spent over an hour, evincing keen interest in the exquisite inlay work of the 17th century monument.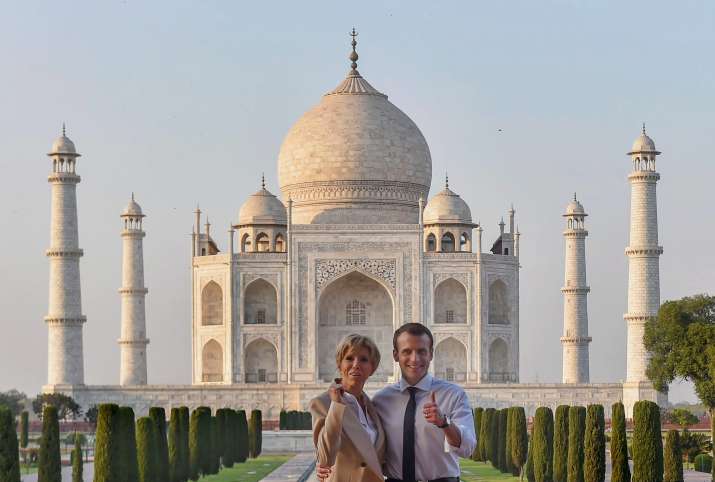 Inauguration of UP's biggest solar power plant
Prime Minister Narendra Modi and French President Emmanuel Macron inaugurated Uttar Pradesh's biggest solar power plant in Mirzapur district's Chhanvey block. 
Built at a cost of around Rs 500 crore by French firm ENGIE, the 75 MW solar plant has come up at Dadar Kalan village on the hilly terrain of the Vindhyas range. 
Some 1,18,600 solar panels have been set up in over 380 acres. 
Power would be transmitted to Jigna sub-station of Mirzapur range of Uttar Pradesh Power Corporation Ltd. The plant will generate 15.6 crore units of electricity annually, about 1.30 crore units per month. 
Boat ride on Ganges
During his visit, Macron also enjoyed a boat ride with Prime Minister Narendra Modi on the Ganga with a glimpse of the rich cultural heritage of the temple city. 
Macron, who had spent time at the Taj Mahal with his wife Brigitte yesterday, was given a traditional welcome with showering of flower petals, a Shehnai recital and chanting of mantras before he took a decked-up boat which ferried him, Modi and Uttar Pradesh Chief Minister Yogi Adityanath between Assi and Dashwamedh ghats. 
Modi, who represents Varanasi in the Lok Sabha, briefed Macron about the history and significance of various ghats along the holy Ganga.
People and school-leaders gathered in large numbers along the ghats waving flags of India and France while artistes enacted scenes from Ramleela and the episode of first sermon by Lord Buddha to his five disciples. 
Right from the open auditorium of the Deen Dayal Upadhyaya Trade Facilitation Centre to the ghats, artistes put up an impressive show before Macron and Modi who walked hand in hand. 
After reaching the DDU centre from the LBS International Airport, Macron visited the handloom and handicraft exhibition at the textile museum and enjoyed 'Chitrakoot', a play based on Hindu scripture Ramcharitmanas which was staged in the open auditorium. It showcased the life of Lord Ram during his 14-year exile. 
Arriving to the welcome tune of a 'shahnai' at the Deendayal Hastkala Sankul in Badalalpur, the French president evinced a keen interest in handicrafts and heritage of the culturally-rich the city. 
WATCH VIDEO: