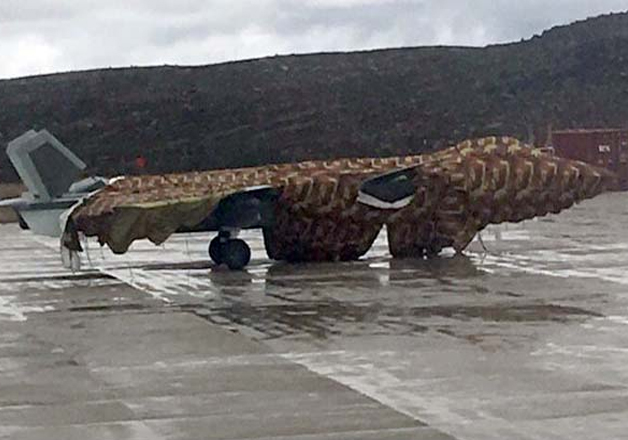 Days after China warned India against deploying the supersonic BrahMos missile along its border, Beijing has responded by stationing its stealth fighter-bomber aircraft J-20 at the world's highest civilian airport Daocheng Yading, which lies to the east of Arunachal Pradesh.
The development comes two days ahead of Prime Minister Narendra Modi's visit to China for the G-20 Summit.
An image of J-20, a stealth, twinjet, fifth-generation fighter aircraft developed by country's Chengdu Aerospace Corporation for the Air Force, has appeared on micro-blogging site Twitter and on two defence websites www.abovetopsecret.com and www.alert5.com.
The J-20, one of Beijing's most closely guarded military projects, made its first flight on January 11, 2011, and is expected to be operational in 2018.
The image shows the aircraft covered in tarpaulin at the airport, located 4,411 meters above sea level.
The fighter jet can operate from extreme high-altitude air fields. The J-20 soars at a top speed of 1,305MPH (2,100kmh) and features a stealth design. The J-20's weapons are carried internally, with a central bay believed to contain four beyond visual range air-to-air missiles (BVRAAMs) as well as two short-range air-to-air missiles (AAMs).
India does not operate any stealth aircraft at present. The Indo-Russian Fifth Generation Fighter Aircraft (FGFA) being co-developed by Sukhoi is still several years from entering service with the Indian Air Force and the indigenous Advanced Medium Combat Aircraft (AMCA) is still not off the drawing boards.
Last week, China had reacted sharply to India's move of deploying the BrahMos in the Eastern sector to ramp up its capabilities along the border with China.
China had said that India could do "more" to maintain peace and stability and should not do anything "contrary" to the consensus reached between the two countries to maintain peace and stability in border areas.
Meanwhile, the Indian Army rejected China's concerns over the deployment of BrahMos missile in Arunachal Pradesh.
"Our threat perceptions and security concerns are our own, and how we address these by deploying assets on our territory should be no one else's concern," the Army had said.
The BrahMos is a supersonic cruise missile which can be launched from submarines, ships, aircraft or land. It can carry warheads weighing up to 300kg, and strike targets on land and at sea. It has been in service with the army since 2007 and is currently being tested for use by the Air Force's Sukhoi-30 fighters.