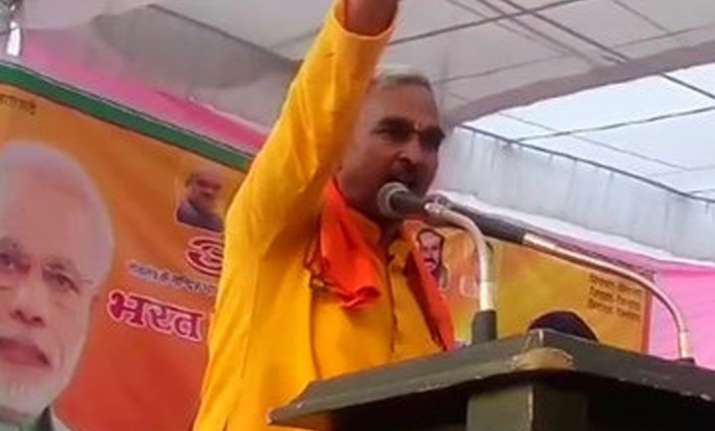 BJP MLA from Uttar Pradesh' Ballia district Surendra Singh on Tuesday equated goverment officials with sex workers. No stranger to controversy, Singh claimed 'officials were worst than sex workers who at least take money and do their jobs' and advised the public to 'thrash government officials with shoes if they demand a bribe'. 
"Officials se accha charitra vaishyaon ka hota hai, woh paisa lekar kam se kam apna kaam toh karti hain aur stage pe naachti hain. Par yeh officials toh paisa lekar bhi aapka kaam karenge ki nahi, iski koi guarantee hi nahi hai (Sex workers have better character than officials, at least they take money and do their jobs or dance on the stage. But with officials, there is no guaruntee that they will do your work even after taking money)," the BJP leader said in a statement, reported by ANI. 
Give them a "ghoosa" (punch) if they ask for "ghoos" (bribe), Singh told his supporters. Angry with the staff at the Bairia tehsil office for allegedly demanding bribes, the MLA on Tuesday observed a 'chetavani diwas' or 'warning day'. In the presence of reporters at the office, he urged his supporters to record the voice of any official who demands a bribe "and present him before me".
"If he does not agree to do his work, teach him a lesson by punching him and if he still does not agree, thrash him with shoes," he said.
Also read | UP MLA Surendra Singh does it again, says parents and smartphones responsible for rape incidents
"Ghoos mangey to ghoosa do, nahin maaney to joota do," he said, coining a slogan.
Singh defended his remark later, saying it was in the interest of the people and he was ready to go to jail for their welfare.
The BJP MLA is known for making controversial statements.
This is not the first time that the legislator has made a controversial statement. After the recent Kairana Lok Sabha and Noorpur assembly bypolls, he had blamed the ministers in the Yogi Adityanath government for the party's humiliating defeat at both places. He said if certain ministers were not removed from the state cabinet, the ruling party's downfall in UP was certain.
Earlier this month, Singh said that parents are responsible for the increasing incidents of rape and should not let their children roam around freely.
Before that the leader had said that no one can rape the mother of three. The remarks came in the backdrop of outrage over the rape of a 17-year-old girl in Uttar Pradesh's Unnao district, allegedly by BJP MLA Kuldeep Singh Sengar. 
Defending Sengar, Surendra Singh had said, "I am speaking from a psychological point of view; no one can rape a mother of three children. It is not possible, this is a conspiracy against him (Sengar)." 
Known for making contentious comments, he had also recently called West Bengal Chief Minister Mamata Banerjee "Surpanakha", the sister of demon king Ravana. Singh has said the 2019 Lok Sabha elections will be an "Islam vs Bhagwan" battle.
Also read | Unnao rape case: BJP MLA defends Kuldeep Sengar, says 'impossible to rape mother of 3 children'
Prime Minister Narendra Modi last month directed his party's lawmakers not to make "irresponsible" statements. 
"We commit mistakes and give masala to media. The moment we see a cameraperson, we jump to make a statement as if we are great social scientists or intellectuals. So this half-baked stuff is picked up. Then these ill-informed statements are used by media and the party's image takes a beating," the prime minister had said.