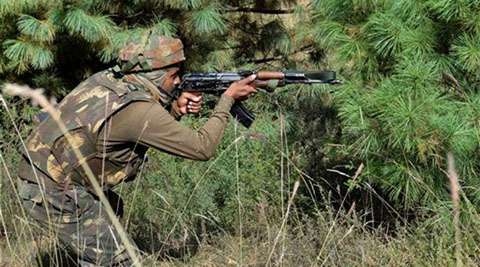 Three terrorists were killed in separate encounter with security forces on Tuesday in Jammu and Kashmir.
While a Pakistani terrorist was shot dead by security forces in Akhnoor sector near International Border (IB) , two other terrorists were eliminated when they tried to infiltrate in Keren sector of Kupwara district. 
The operation was underway in Keren sector when the reports last came in.
According to an official statement, warlike stores including five pistols, ten pistol magazines, 60 bullets of pistol, one AK assault Rifle, two AK Rifle magazine with 234 rounds of ammunition, fifteen hand grenades and twelve fuzes for IEDs were recovered from the eliminated Pakistani terrorist in Akhnoor sector,
"This huge cache has scuttled the nefarious plans of the terrorists outfit to derail the peace and harmony in the region and disrupt the forthcoming Panchayat Elections in the state. The timely intercept of the intrusion of the terrorists with the cache of arms, ammunition and other war like stores has thwarted any possible untoward incident, planned by the terrorist during the scheduled elections in the state," the official statement added.