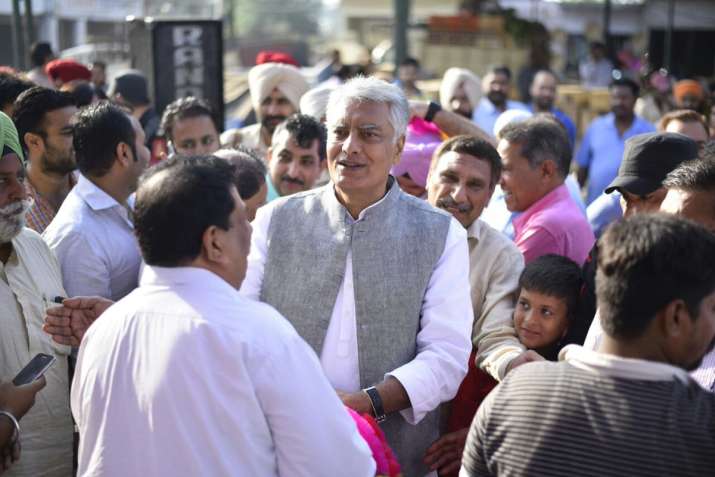 Congress candidate Sunil Jakhar on Sunday won the Gurdaspur Lok Sabha seat by nearly 2 lakh votes.
The seat fell vacant in April following the passing away of veteran actor Vinod Khanna, a four-time MP from the seat.
The bypoll, held on October 11, is seen as a barometer for the popularity of the six-month-old Congress government in the state.
HERE ARE THE LIVE UPDATES:
#The Gurdaspur by-election marks another major step in the revival of Congress, it's clear that party is on upswing ahead of 2019 LS polls: Punjab Chief Minister Captain Amarinder Singh
#Assure people of Gurdaspur that every single promise made by Sunilk Jakhar will be fulfilled and all development works will be fast-tracked: Captain Amarinder Singh
#Congratulations to Sunilk Jakhar ji for his impressive win in #Gurdaspur bypoll, it's a victory for Punjab Congress' policies & development agenda: Amarinder Singh
#Final tally of votes: Congress- 4,99,752, BJP- 3,06,533, AAP- 23,579 
# Congress' Sunil Jakhar wins by 1,93,219 votes.
#People of Gurdaspur have sent a strong message of their resentment to policies pursued by Modi ji led Centre: Sunil Jakhar 
#Congress candidate Sunil Jakhar now leads by 1,08,230 votes: ANI
#Congress's Sunil Jakhar extends lead, now is ahead by 94,161 votes: ANI
#Counting is being conducted in centres in Gurdaspur and Pathankot towns.
#The Gurdaspur parliamentary seat has nine assembly segments -- Bhoa, Pathankot, Gurdaspur, Dinanagar, Qadian, Fathegarh Churian, Dera Baba Nanak, Sujanpur and Batala.
#Nearly 56 per cent of the 15.22 lakh registered voters exercised their franchise for the seat.
#All necessary arrangements for the counting of votes for the Gurdaspur Lok Sabha bypoll have been made and the results will be out on Sunday, Punjab Chief Electoral Officer VK Singh said.
#The voter turnout was much lower than the over 70 per cent polling in the 2014 general elections.
#The seat was contested by Congress's Punjab unit chief Sunil Jakhar, BJP's Swaran Salaria and AAP's Major General (retd) Suresh Khajuria.
#The Election Commission of India (ECI) has announced a complete prohibition on sale and supply of liquor in Gurdaspur.
#As per the ECI directive, all liquor shops here would remain closed. No hotel, restaurant, liquor shop or any eating joint, even with a license, would be allowed to serve or sell liquor tomorrow.
#The fight is crucial for the BJP which is trying to retain the seat, the Congress which recently came to power in Punjab and the AAP which is trying to emerge as a strong contender.