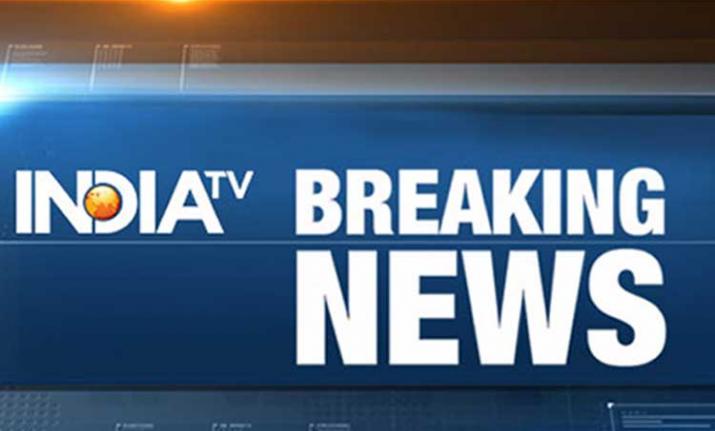 Daily dose of news plays very important role in our daily life. For some people, the morning is incomplete without knowing about what's happening across the world. Some digital-savy people have a habit of consuming news even when they are travelling or in their free time. In today's world, where people rely on news websites for everything that's happening around, IndiaTV News provides you all breaking news, latest news, breaking story videos, Live TV and top shows of IndiaTV, country's leading news channel on a single platform to ensure you don't miss anything important.
Internet, Twitter, Facebook are buzzing with breaking news and news alerts from India and rest of the world. You can find here the LIVE COVERAGE of all breaking news alerts and latest news updates on just one page. IndiaTV Digital covers all top news as and when it happens and ensures its readers don't miss anything important.
Breaking News, Latest News Live Updates of August 29
05:05 pm: All five accused arrested in Bhima Koregaon case to be placed under house arrest till September 5, orders Supreme Court. Next hearing on September 6.
04:23 pm: Special NIA court issues non-bailable warrant against 2008 Malegaon blasts accused Sudhakar Dwivedi alias Dayanand Pandey. Pandey is currently out on bail and he was not attending court hearings. Next hearing on September 5.
02:29 pm: Indian Air Force's Chetak helicopter develops technical snag, makes emergency landing in Telangana's Siddipet. The chopper was on routine training and took off from Hakimpet base of Hyderabad
02:01 pm: Mumbai Police Crime branch arrests an accused Vinod Dubey from Thane's Manpada, in relation with a murder case in UP's Gorakhpur in May 2018
01:59 pm: Mumbai Sessions Court denies remand of Sharad Kalaskar to CBI in the Narendra Dabholkar murder case. Court asks CBI to apply for remand once Kalaskar's ATS remand is over. He is in ATS remand till September 3
01:54 pm: National Human Rights Commission observes that it appears, the standard operating procedure in connection with these arrests has not been properly followed by the police authorities, which may amount to violation of their human rights
01:49 pm: National Human Rights Commission has taken suo the cognizance of media reports about the arrest of five activists by the police from different cities yesterday in connection with the investigations in the Bhima Koregaon violence
01:41 pm: Union Cabinet approves an additional 2% hike in dearness allowance for central government employees with effect from 1st July 2018
01:15 pm: If that is the cussed approach, that you say look my party has a legacy of corruption in defence deals, let me make a faint effort to say everybody is corrupt. If that is the political strategy, then please don't advise us to show official files: FM Arun Jaitley 
01:14 pm: If you can go to extent of misquoting President Macron, and saying he warned me there is no secrecy clause, the French government denied it, the GoI showed the secrecy cause in Parliament and then you turn around and say "hoga par main nahin manta": FM Arun Jaitley 
01:06 pm: Congress must remember that it can't fool people all the time. This is a government to government arrangement. Offset has nothing to do with this contract. Government will purchase 36 fully-loaded aircrafts from France,no private party involved. Govt role ends: FM Jaitley 
01:02 pm: You comprised national security, you have not given any reason why you delayed it by ten years. The combat ability of our forces had to be increased; we live in a troubled zone: Finance Minister Arun Jaitley
12:45 pm: I have, atleast twice, repeated this sentence, how much does he know and when will he know? Can you compare a basic aircraft's pricing with a loaded aircraft? Can you compare simple aircraft with a weaponized aircraft?: FM Arun Jaitley on Rahul Gandhi 
12:42 pm: At least eight killed in suicide car bomb attack on security checkpoint in Iraq's Anbar Province (reports Reuters)
12:40 pm: ED attaches assets worth Rs 26.65 crore of journalist Upendra Rai in money laundering and extortion racket probe case
12:29 pm: This (allegations on Rafale deal) is like a kindergarten or primary school debate. Well, I was paying 500 something and you've paid 1600 something. That's the argument being given, it shows how little understanding (Rahul Gandhi) he has: FM Arun Jaitley 
12:21 pm: Every fact that they (Congress) have said on pricing is factually false. Mr Rahul Gandhi himself has given 7 different prices in different speeches with regard to the 2007 Rafale offer: FM Arun Jaitley to news agency ANI 
12:13 pm: I have constituted Samajwadi Secular Morcha. All those who who are not being respected in Samajwadi Party should come with us. We will also bring together other smaller parties: Shivpal Yadav
11:39 am: Two Hizbul militants killed in Anantnag encounter today have been identified as Altaf Ahmad Dar (top HM commander) and Umar Rashid Wani. Case registered, investigations begin 
11:38 am: RBI Annual report for the year 2017-18 states, "Implementation of GST achieved another important milestone towards an efficient indirect tax structure. On the external front, the current account deficit was comfortably financed with accretions to foreign exchange reserves."
11:37 am: "Domestic financial markets were broadly stable with rallies in equity markets & intermittent corrections, hardening bond yields, rupee trading with a generally appreciating bias except towards close of the year & ample liquidity in money markets": RBI Annual Report
11:35 am: RBI Annual Report for the year 2017-18 states," In the evolution of monetary aggregates, currency in circulation surpassed its pre-demonetisation level while credit growth revived to double digits from a historic low in the previous year."
11:34 am:"RBI Annual Report for the year 2017-18 states, "Indian economy exhibited resilience during 2017-18, with upturns in investment and construction. Inflation eased on a year-on-year basis in an environment characterised by high variability."
11:28 am: Delhi High Court grants interim bail to Bhushan Steel Limited's former promoter Neeraj Singal. He was arrested by Serious Fraud Investigation Office (SFIO). He has to furnish a personal bond of Rs. 5 lakhs and two surety bonds of Rs. 2 lakhs each
11:23 am: Pacific Tsunami Warning waves of 0.3 to 1 meters above tide possible for Fiji, New Caledonia and Vanuatu following 7.0 earthquake 
11:11 am: MoUs signed between Union External Affairs Minister Sushma Swaraj and Minister of Foreign Affairs of Cambodia Prak Sokhonn, in Combodia's Phnom Penh
10:42 am: Eminent persons Romila Thapar, Prabhat Patnaik, Satish Deshpande, Maya Darnall and one other person move the Supreme Court against the arrest of activists Sudha Bhardwaj and activist Gautam Navlakha in Bhima Koregaon case. SC to hear the matter at 3:45 pm today
10:30 am: Delhi High Court to hear Gautam Navlakha matter at 2:15pm today as police seeks more time for translation of documents from Marathi to English. Court asks the counsel for police to file the documents in the Bhima Koregaon case till 12 noon 
10:02 am: I visited a no. of camps yesterday, people are worried. I spoke to Kerela CM too. It is important that the govt gives a sense to the people that it is going to help re-build the houses. Compensation promised should be delivered quickly: Congress President Rahul Gandhi in Kochi
09:49 am: I have come here as a support and not to politicize the situation. I will not comment on the nature of this crisis: Congress President Rahul Gandhi on being asked if Kerela floods is a man-made crisis 
09:37 am: Shallow magnitude 7.0 earthquake strikes near New Caledonia
09:26 am: Two Hizbul Mujahideen militants killed in encounter with security forces in Anantnag district of south Kashmir
09:21 am: Sensex opens 59.12 points higher at 38,955.75; Nifty at 11752.40
08:53 am: Magnitude 4.4 earthquake shakes buildings for several seconds in downtown Los Angeles
08:50 am: Jammu Srinagar National Highway blocked due to landslides in Kheri area of Udhampur district. Vehicle movement disrupted, road clearance operation underway
08:41 am: 8 people buried in landslide in Kot village near Uttarakhand's Buda Kedar, 3 bodies recovered so far. Search and rescue operation underway
08:16 am: Dayalu Ammal, wife of late DMK patriarch M Karunanidhi and mother of MK Stalin, admitted to Chennai's Apollo Hospital
08:14 am: Actor and TDP leader Nandamuri Harikrishna succumbs to injuries after he met with an accident in Telangana today 
08:01 am: Myanmar rejects UN probe on Rohingya abuses
07:16 am: Actor and TDP leader Nandamuri Harikrishna meets with an accident on Narketpally-Addanki highway in Telangana's Nalgonda district. The actor has been hospitalised
06:24 am: Encounter breaks out between security forces and militants in Jammu and Kashmir's Anantnag, 2-3 terrorists believed to be trapped inside a house. Mobile internet services have been disrupted in the district. 
06:15 am: Trump warns Facebook, Google and Twitter "to be careful"
06:14 am: US, Canada to begin detailed trade talks today
06:13 am: Brazil deploys military to boost security at Venezuela border
06:11 am: Earthquake of magnitude 6.4 hits Anatahan region, Northern Mariana Islands
06:07 am: White House probes Google after Trump accuses it of bias