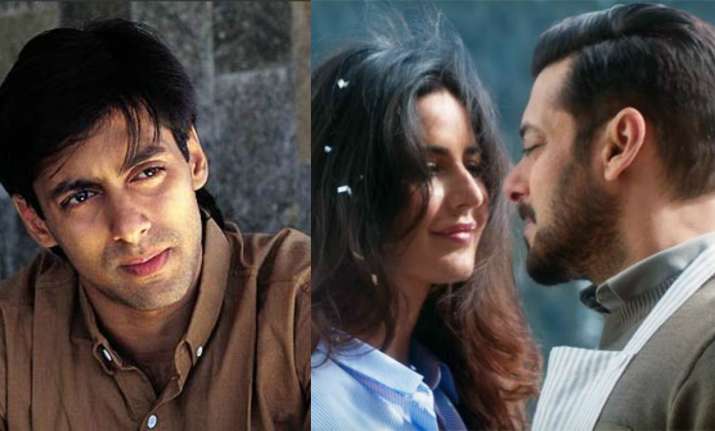 Salman is the superstar of masses and there's not a single iota of doubt in it. Despite of reaching such a height in his career, the actor doesn't likes to acknowledge it. He feels that Shah Rukh Khan and Aamir Khan are bigger stars than him. Obviously, it is because he is down to earth and generous. After Tubelight which was a box office turkey, the actor is all set to spread his magic with Tiger Zinda Hai. The sequel to 2012 blockbuster Ek Tha Tiger is directed by Ali Abbas Zafar and will release on December 22. The film has Katrina Kaif as the leading lady and is full of action-packed sequences.
In an interview to indianexpress.com, the superstar opened up on his film selection and most importantly about Katrina. When Salman was questioned about when did he realise that he is now a star and his life won't be same anymore, he politely says, ''Really? How sweet of you to say that, but I still feel it is Aamir and Shah Rukh who are the biggest stars our country will have in a long time.'' He then tells about his struggling days and how he was hunting for work. He says his life changed after Maine Pyar Kiya. ''There was a time when I was really looking for work. I was doing modelling and stuff like that. I was looking for work as a director, but there was no work for me there. Somebody told me that I should be an actor, but I didn't get any work as an actor as well. So, I was really struggling for work, and then my life changed after Maine Pyar Kiya,'' says Salman.
Salman recalled those days when he didn't pay attention to scripts and was doing films just for the sake of friendship. ''There was a phase in my life, where I was doing shit work. Shit scripts were coming to me. Then one day, I realised that I don't want to do any shitty work and only if I got good stuff that I would continue. Then a film came and I saw the prospects of it becoming a big hit, but I said I need to sit on the script and they allowed me to. We sat on it and then I started doing that for my films. Earlier I did a lot of films with people I really liked, friends and stuff like that, but the scripts were not so good. So, when you say this to them, it looks like you are dodging them or you don't want to work with them. And then you end up doing the film, stand on screen and let things happen. You really have to do good work. You have to be above the film and make sure it is worth the audiences' time,'' tells Salman.
When asked about Katrina's journey and has she changed, he immediately says that Kat hasn't changed at all. He emphasizes that she is innocent, vulnerable and pure just like a child. He also says that Katrina doesn't talk ill about anyone and works on herself.  ''She doesn't get depressed with a film not doing well or somebody writing nasty things about her performance. She doesn't manipulate or pull anyone down. She doesn't talk bad about anyone. She lives in a beautiful, perfect world,'' says Salman.
Stay tuned to this place for all updates