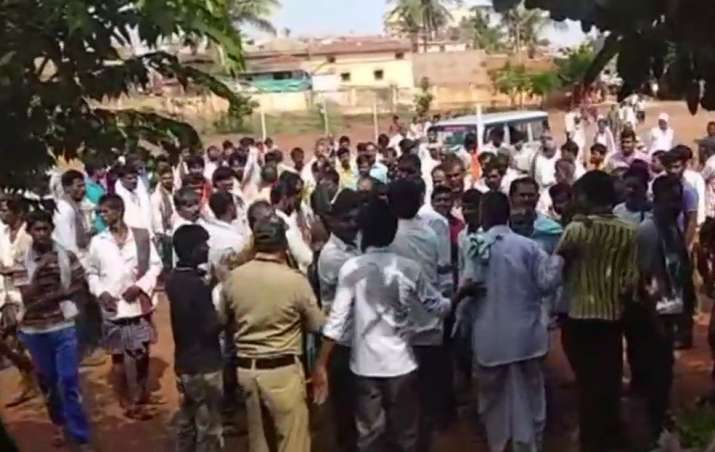 As the day for the single phase voting in Karnataka Assembly elections progresses, the reports of disruptions and political potshots are becoming more frequent. 
While Congress, BJP and JDS leaders took the opportunity of a visit to polling booths to assert confidence in their respective victories, the representatives of the national parties also threw barbs at each other. 
The strongest pot shot came from incumbent chief minister Siddaramaiah who claimed that his opponent BS Yeddyurappa was not of a sound mind, "Yeddyurappa is mentally disturbed. Congress will get more than 120 seats. I am very confident," he said. 
Follow Karnataka Elections 2018 Voting Updates
Siddaramaiah's comment came after the BJP CM candidate claimed that people were fed up with the Siddaramaiah government. "I urge the people to come out and vote for BJP. I assure the people of Karnataka that I'm going to give good governance," Yeddyurappa said after casting his vote early in the morning.
Meanwhile, JDS chief who reached the polling booth in Ramanagara claimed that his party will get a majority in the state, "We are confident that JDS will cross the magic number on its own."
Prime Minister Narendra Modi, who is in Nepal on an official trip, was not spared in the political slugfest afoot in Karnataka. Raising objection on the 'temple diplomacy' by PM Modi in Nepal, Congress leader Ashok Gehlot claimed that it was prime minister's way of getting around the election coe of conduct. 
"As there is a model code of conduct in Karnataka, PM Modi planned to pray at temples in Nepal instead, just to influence voters. This is not a good trend for democracy. Why did he only choose today as the day?," Gehlot said. 
Violence, clashes, corrupt machines
Clashes broke out between Congress and BJP workers outside a polling booth in Hampi Nagar, allegedly after the former thrashed a BJP corporator. BJP candidate from Vijaynagar Ravindra claimed that party's corporator Anand was attacked but police did not take any action. 
"It is a sensitive polling booth and the clash between BJP and Congress workers happened within 100 meters of the booth. We will investigate and take further action," Ravi Channannavar, Bengaluru DCP told media. 
In Dharwad, BJP workers staged a protest outside Booth No. 58 in Karadigudda, alleging that polling staff at the booth were asking people to vote for Congress candidate Vinay Kulkarni. Election Commission officials were on the spot and investigating the matter. 
Dharwad: BJP workers staged protest outside Booth No. 58 in Karadigudda, alleging that polling staff at the booth were asking people to vote for Congress candidate Vinay Kulkarni. EC officials present at the spot #KarnatakaElections2018 pic.twitter.com/xPgwpKhEEq

— ANI (@ANI) May 12, 2018
Faulty EVMs and VVPAT machines delayed the voting process in selected places. Voting was delayed for two hours in Banahatti 137 polling booth due to faulty EVM. Earlier in the day, faulty Voter Verifiable Paper Audit Trail (VVPAT) machine at booth number 108 in Hubli was replaced. 
At a polling booth in Belagavi, a female voter broke into tears after she was asked to remove her burqa for identification before entering the booth. Later she was allowed to go when a woman official identified her inside a cubicle.
Till 12 pm, 37 per cent voters in 222 constituencies of Karnataka had practiced their right to vote.