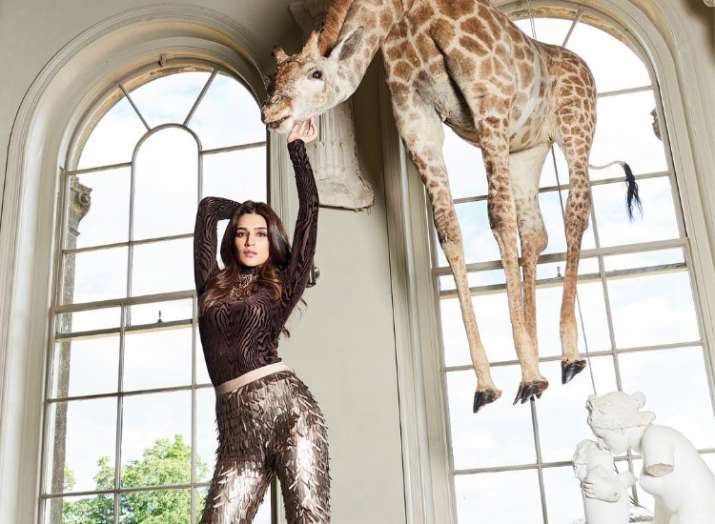 Cosmopolitan India has stirred a controversy by posting a photo of the 'new cover girl' for its August issue, Bollywood actress Kriti Sanon. In the picture, posted by the magazine's official Instagram account, the Raabta star can be seen in a black high-neck top paired with silver glossy trousers and black stilettos, striking a pose with a giraffe that appears to be suspended in the air.
Cosmo India shared the picture on their Instagram and captioned it as, "I'm not someone who gets angry easily, but when I read about atrocities against women, it really upsets me.' Meet our cover girl @kritisanon being her candid self in our August issue."
While Kriti Sanon looked like a million dollars in the picture, netizens weren't quite impressed with the hanging giraffe. In no time, comments flooded on the post with Instagrammers pointing out the contradiction in Kriti Sanon's statement and her picture. They slammed the actress for portraying atrocities against women but doing the same with animals. This is what Netizens are saying about the cover shoot-





However, the brand tried to justify the giraffe's presence the picture and edited the caption saying, "PS: Aynhoe Park features taxidermy, hundreds of years old, most from museums. Taxidermy is the art of preserving an animal that died of natural causes, for academic purposes. The giraffe featured here is floating (not hanging, heavens no!) with balloons on its back. An art installation, in what is possibly one of the eclectic yet most majestic mansions in the world. 
PPS: Cosmo loves, no, is obsessed with animals. We were, possibly, the first magazine in India to ban the featuring of fur, three years ago. No animals were harmed before, during, or after this shoot. We may be guilty of watching too many puppy videos during work hours, though."
On the work front, Kriti Sanon is currently shooting for her next film Luka Chuppi with Kartik Aaryan. She will also be seen in Housefull 4 alongside Akshay Kumar.
In March this year, Bollywood actress Sonam Kapoor was also clicked at the same location, with the same prop, a picture of which was shared on the location, Aynhoe Park's Instagram page. In the still, Sonam can be seen posing in front of the same giraffe in a red Ralph & Russo ensemble.