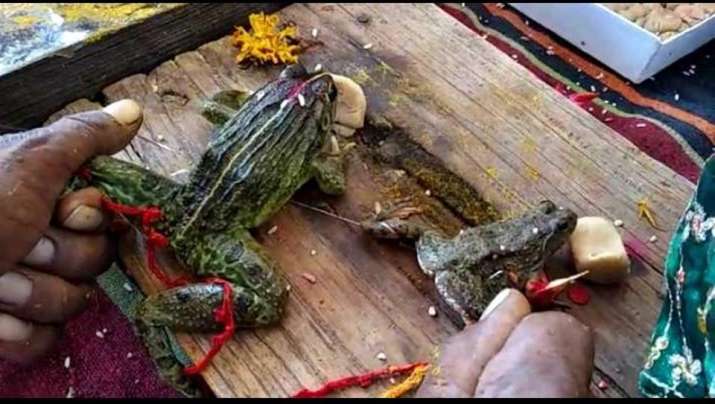 Around the world, wedding traditions are a little bit different: Some of them are heartwarmingly romantic, and some of them are a little strange, and some of them might make you a little bit uncomfortable. Well, in a bizarre marriage, two frogs got married in Madhya Pradesh. Yes! You heard that right. Ina ritual that is believed to please the rain gods and subsequently result in bountiful rainfall, two frogs were 'married' to each other in a ceremony that was attended by MP minister Lalita Yadav, according to ANI report.
The minister reportedly said the ritual was performed for the drought-hit region of Bundelkhand. A similar ceremony was also held in Uttar Pradesh's Varanasi city but instead of real frogs, toy frogs were used.
Wedding of two frogs organized as part of a ritual held in Chhattarpur to 'please rain gods'. Madhya Pradesh Minister Lalita Yadav who was also present says' We have prayed to god for rain in drought hit Bundelkhand region and for the welfare of our farmers' (22.6.18) pic.twitter.com/q2qxz7taZi

— ANI (@ANI) June 24, 2018
Temple priest Acharya Brijnandan said, "The frogs' marriage and feast is a very old tradition to please the god." He is among those who believe that there will be good monsoon this year due to the ceremony.
Although rare, frog weddings are not unheard of in India. In 2009, residents of Jharkhand's drought-hit Chatra district organised a similar wedding for frogs to appease the rain god. The wedding with a difference included a feast for 500 people, invitation cards and even a car for the groom. The couple in this wedding were not made of plastic but actual frogs. The female frog was adopted by a local who performed the 'kanyadan' or giving-away ceremony.