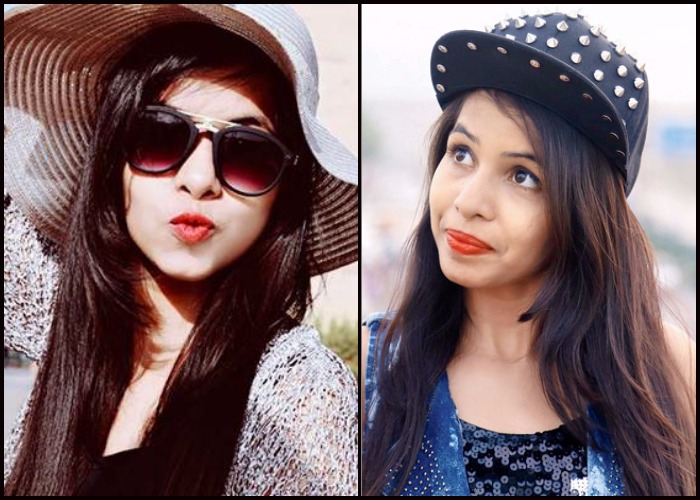 After making wild card entry in Salman Khan's show Bigg Boss 11, Dhinchak Pooja got eliminated in just couple of weeks. In the last Weekend Ka Vaar, Pooja garnered least number of votes and hence was shown an exit door. Here's all you need to know about the social media sensation, Dhinchak Pooja aka Pooja Jain.
It wasn't long ago when the cringe-pop culture knocked the doors of our country. Taher Shah was wreaking havoc in Pakistan with his cacophony and then Dhinchak Pooja made her grand entry in cringe-pop culture. In less than a month, her song 'Selfie Maine Le Li Aaj' became a thing on internet which led to people digging up her previous composition. What they found? The immortal gems of music like 'Swag Wali Topi' and 'Daaru'. Even though we hate to say, Dhinchak Pooja has got some guts.
New reports have confirmed that Dhinchak Pooja is going to be the wild card entry in popular reality TV show Bigg Boss 11. As if her songs weren't enough to give us nightmares, she's now coming to national television to give us sleepless nights. In the preview, Salman Khan was seen mocking Dhinchak Pooja for her cacophonic songs. But she stands unperturbed, as if she knows what she has signed up for.
If you've been living under rocks and don't know who Dhinchak Pooja is, here's a short introduction.
In case you're wondering if Dhinchak Pooja is her real name, let us tell you that her parents gave her a sane name, which is Pooja Jain. She is a 23-year-old girl from Uttar Pradesh who 'carved a niche' for herself in the cringe-pop industry. She has completed her studies in English (hons) from Guru Gobind Singh Indraprastha University, Delhi.
She can't sing. She has a normal voice as any of us have. She's no different. Then how did she become so famous? The answer is YOU! Yes, the likes of you and me have made Dhinchak Pooja an internet sensation. Even though you hate her grotesque voice, but you've played her video a multiple times and shared her trolls, making her no less than a celebrity.
Do you know how much Dhinchak Pooja earns with her YouTube video?
This is an important question, the most important one, in fact. Everyone's asking how much money she's making by making people's ear bleed. Let's keep it out to you. She got 12 million+  views on her YouTube on her song 'Selfie Mene Le Li Aaj'. She is said to have made over 7 from her single Youtube video! That's a huge amount of money for a nerve-racking track, isn't it?
Dhinchak Pooja has got more than 13,000 followers on her page!
Check out some of the legend's tweets: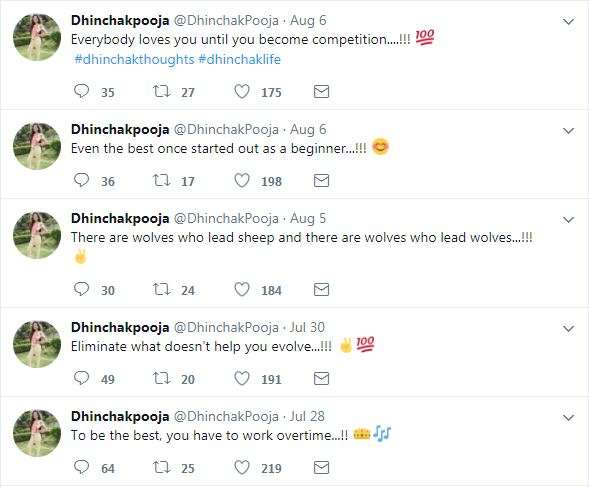 ​
Here's her Twitter bio: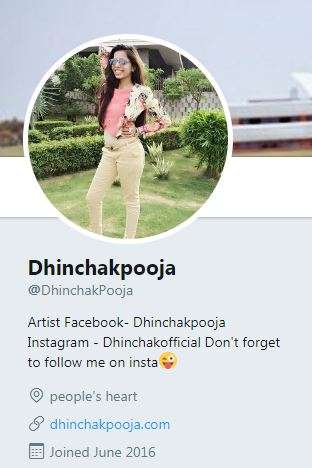 Dhinchak Pooja follows only 5 accounts on Twitter. And here's the list of 'lucky' people.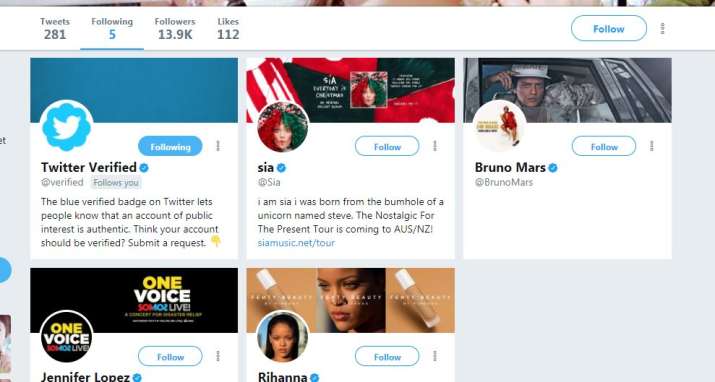 And now comes Dhinchak Pooja's 'Official' Instagram account:
Spare a moment to read her Instagram bio.

Check her amaaaazing pictures:
Haven't heard her 'Hit' numbers? Here's the list for you.
Selfie Mene Le Li Aaj
Aafreen Fathima Bewafa Hai
Baapu Dede Thoda Cash
Dilon Ka Shooter