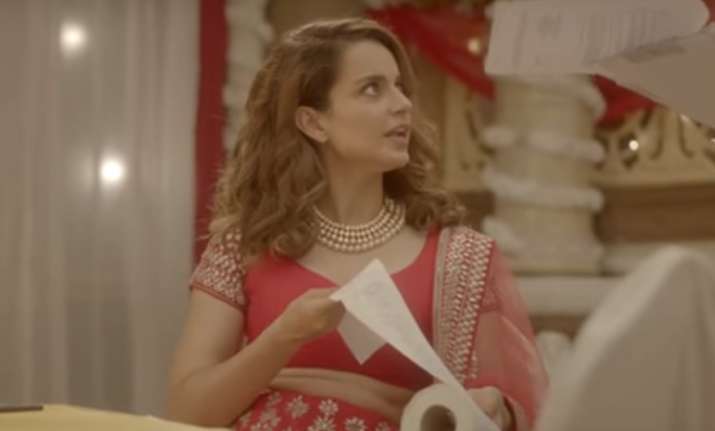 Kangana Ranaut is truly a bombshell not only because of acting skills but also because of her daring and carefree attitude. The actress who is currently busy promoting her impending release Simran, attempt something new has shot a video with You Tube channel AIB or All India Bakchod. After giving a series of interview making explosive revelations, this must be quite an entertaining for the Queen actress. In the video titled The Bollywood Diva Song,   Kangana is seen taking jibe at Bollywood for myriad reasons.
The hilarious video shows Kangana as an actress 'Priya' who is waiting for the shoot to start. She gets her lines written on a toilet paper roll supposedly showing the petty dialogues that female leads get in Hindi films. When she raises objections about her lines to the director, he refuses to recognise her. She then tries to make him recall that she is 'female lead' but that too of no use. It was only after she says 'hero's love interest', the director is able to identify her. She then says that her role is of quantum physicist and it won't suit her if she utters these lines to which the director replies, ''Audience ko titillate karogi tabhi toh hit hoga.''
Then enters the hero played by stand-up comedian Varun Thakur whom the director amusingly welcomes holding a thali in his hand. The scene is a parody of Karan Johar's Kabhie Khushi Kabhi Gham's sequence where Jaya Bachchan welcomes Shah Rukh Khan. Interestingly when the actor suggests the same modification in the actress's lines, the director agrees.
The song takes a sly dig at Bollywood in many ways - from lesser pay to female leads to objectifying them, the song has hilarious take on each of them. The video also attacks nepotism, patriarchy and age gap between actors and actresses. In the song, basically one liners have been clubbed together to create a hard-hitting and sarcastic version of Chittiyan Kalaiyan. One of the lines sung by Kangana goes like: Oh Main To Hun Kitni Young Young.. Iss Buddhe Ke Sang.. Buzurg Hai Mera Piya..It's Almost Paedophilia.. Karoon Jo Shadi Am Done Done.. Wo Still Number One One..Romancing My Bitiya..While I Sell Tikiya. The video which has all traits of going viral has already garnered 248,481 views within a day and is still counting. So, without waiting more, here you go: