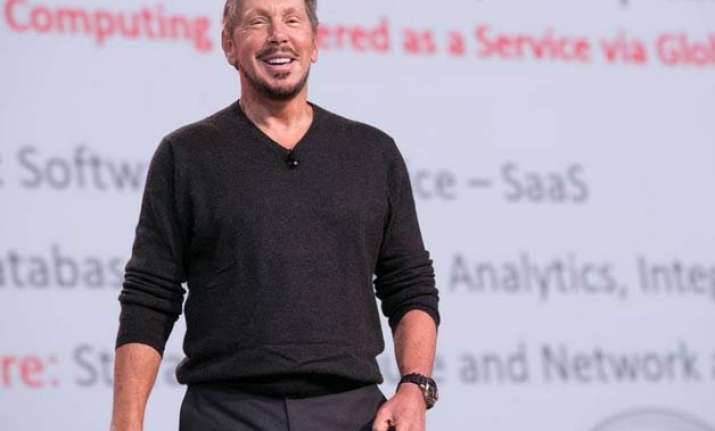 San Francisco: At a time when cyber attacks to steal key data are proving to be a real nightmare for nations and companies, global software and cloud major Oracle has launched the world's first silicon-based microprocessor that has taken data security to an entirely new level.
Named M7, the state-of-the-art microprocessor features an always-on security, the first-ever memory intrusion detection and a high-speed encryption.
"The security is always on with the first-ever hardware-based memory intrusion detection. It detects cyber threats real-time and shut and eliminate bugs," Oracle's executive chairman and chief technology officer Larry Ellison announced here on October 27.
The world needs a next-generation level security at a time when we are losing against the cyber battle.
"We have to make sure that the data in the cloud is secure, in real-time. So if you got security at the lowest level in the database, then every application is encrypted and you are safe," he explained.
"Bring in a brand new worm, bring in a brand new bug and our microprocessor will ensure that your data is entirely safe and secure," he added.
"Go ask any small Software-as-a-service (SaaS) provider that can your engineers see our data? The answer will always be yes. All of these small SaaS providers have access to your data,"Ellison told the gathering.
But Oracle will keep your data encrypted which you can only see.
"Our engineers can't read the customers' data in the cloud. Only your people can read the data in the cloud. So you control your data, we don't," Ellison informed.
The M7 processor is the result of five-and-a-half years of co-development by engineers from Oracle and Sun Microsystems which Oracle acquired in 2010.
The goal was to incorporate certain functions normally found in software directly into the microprocessor itself.
The M7 incorporates silicon-embedded advancements primarily in two areas: security and performance.
Another advanced security capability hard-wired into the M7 involves memory protection.
Known as "Silicon Secured Memory", this feature recognises an illegal memory reference "when an application attempts to access memory that's dedicated to another application" and stops it.
Illegal memory references cause vulnerabilities like buffer overflows that hackers can exploit.
In terms of performance, the M7 chip speeds up in-memory database operations by dispatching duties - scanning data and joining rows - normally performed in SQL (structured query language) processing.
Two new standalone servers, SPARC T7 and SPARC M7, that were also launched provide entry points that take advantage of the new processor's unique embedded performance and security functions.
The new version of Oracle Solaris, 11.3, contributes to end-to-end security by supporting network encryption as well as "live" transfers of encrypted virtual machines from one server to another.